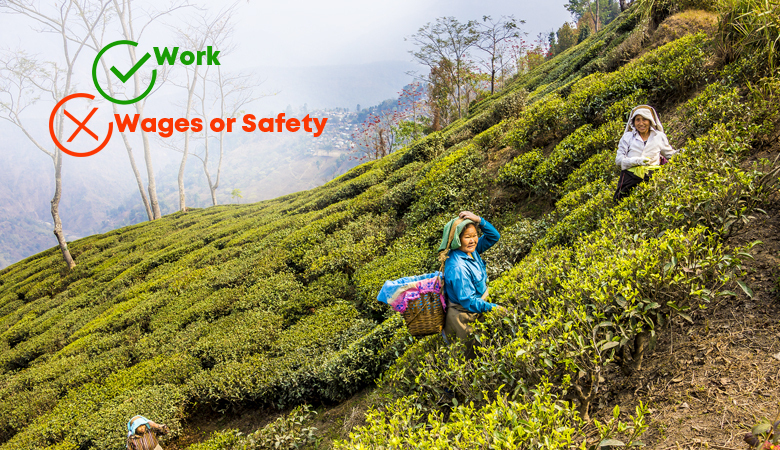 Indians tea plantation workers battles for labour rights
The corona virus induced nation wide lockdown has affected the labour class and daily wage workers in the most unprecedented way. The Dooar region in foothills of Himalayas, stretching from West Bengal to the Dhansiri river in Assam, is just one region with thousands of tea plantation workers affected by this nightmarish lockdown.
In India, almost 12,000 workers in 14 tea plantation estates in Bengal region have been impacted by the corona outbreak lockdown.
Hunger is not new for these workers, what is new is the term pandemic and lockdown. The tea plantation workers in India have been long fighting for labour rights with their daily wage averaging around 150 INR per day. Starvation is the norm for these workers who are underpaid and overlooked by the authorities.
The lockdown is taking a toll on these workers where they are forced to stay home without earnings and job switch. The lockdown 3.0 has only extended their nightmare with no relief in sight.
The tea estates in India are the country's second largest employer but have always been under scrutiny for labour rights by activists. Lack of safe drinking water is just an example of the working conditions here. Furthermore, the lack of basic medical facilities available for these workers is proving to be catastrophic for the industry labour.
As the country went on lockdown on March 23 post Prime Minister Narendra Modi announcement, many tea plantations remained open till March 25 flouting the executive orders.
The tea plantation industry has a poor history when it comes to labour rights. The industry managed to take an exemption from lockdown after a clout with government, with the tea leaves season being at peak.
A central government order on April 3 granted the plantations to work at 50% capacity, provided proper sanitation is maintained for workers. This was against the lockdown protocol putting lives of thousands of workers at stake. The social distancing has gone for a toss for workers in industry. Furthermore, as the limited workers are working overtime, their previous payments have been stalled due to lockdown.
With no wages in hand and health at risk, these tea plantation workers are struggling to keep up with their labour rights. The plight is between staying hungry and risking life to Covid-19. The workers are choosing latter for the sake of their families.