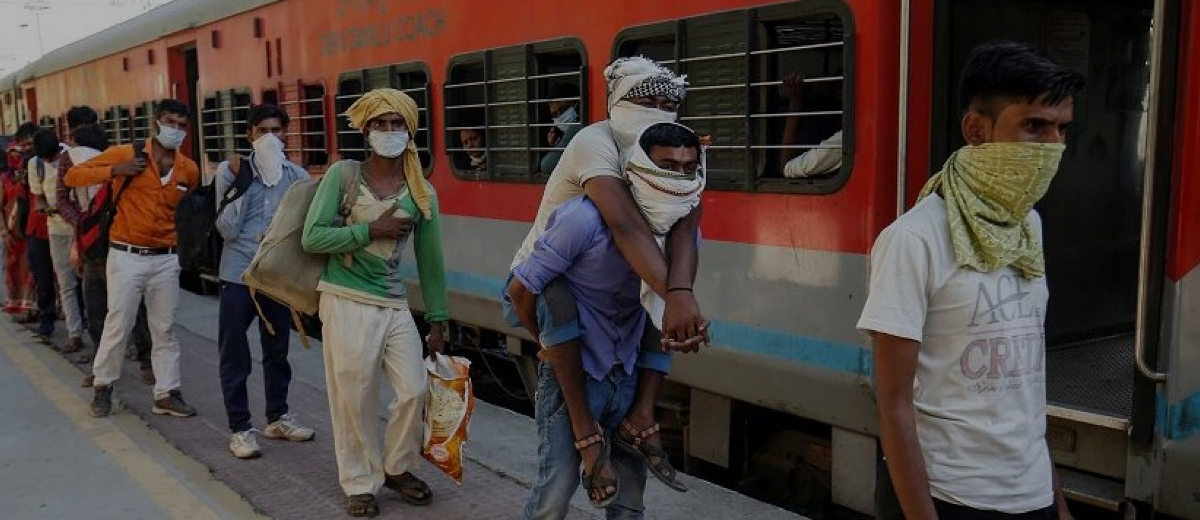 Indian Migrant workers protest to take them to their native
Migrant workers are the worst hit in India as the lockdown has taken away their only source of income-daily work.  Many who are stranded are now protesting under anxiety that they should be allowed to go back home immediately. Most of them are in no position to afford a ticket back home either.
In the metro cities where they have been stranded since the lockdown, they are finding it difficult to make ends meet. Mass protests have broken out in various parts of India showing the most depressing picture of an economic divide that really exists in the country.
Construction workers in Gurgaon have taken to the roads screaming slogans and demanding they be sent back home. Protestors in Surat are chanting the same thought and have had to be manhandled by police to calm them down.
Migrant Workers stranded in Qatar: https://www.theworkersrights.com/migrant-workers/2020/05/04/qatar-reserves-inhuman-treatment-to-migrant-workers-during-covid-19-hundreds-of-nepalese-expelled-and-detained/
While the upper middle class can enjoy the luxury of being locked up and continue to function as they work from home, the lower middle class are facing all sorts of problems. Those with ration cards might be receiving ration under the Pradhan Mantri Yojna, but this is a privilege for a few.
Recently, the Centre issued a 'clarification' stating that only 'distressed' and 'stranded' migrant workers will be allowed to travel. However, the issue of their movement has continued to affect coordination among the states and resulted in a lot of confusion.
The problem is arisen in defining a 'distressed' person. Because the centre does not have detailed information on migrant worker citizens engaged in various informal sectors, it is difficult to segregate as to who is distressed and who isn't.
As migrant workers move towards Maharashtra to go back to native states, their movement has been curtailed by need of mandatory Covid-19 testing. This includes primarily construction workers ailing from Uttar Pradesh, Punjab and Karnataka.  Therefore migrants from these three states have to wait a while before they can travel back from Maharashtra.
After much debate, sanitized buses and 'Shramik Special' trains would be used to transport tested and eager migrant workers back to their home states. The Ministry of Home Affairs has allowed the movement of migrant workers through these specialized trains. A protocol has been prescribed to all states to follow. It states that all migrants travelling will have to be screened by the sending states and only those found asymptomatic would be allowed to travel. The responsibility to transport them to respective railway stations via sanitized buses rests with these state governments. They will be brought only in batches that can be accommodated in the train following social distancing norms and other precautions. It will be mandatory for every passenger to wear face cover. Meals and drinking water would be provided to the passengers by the sending states at the originating station.