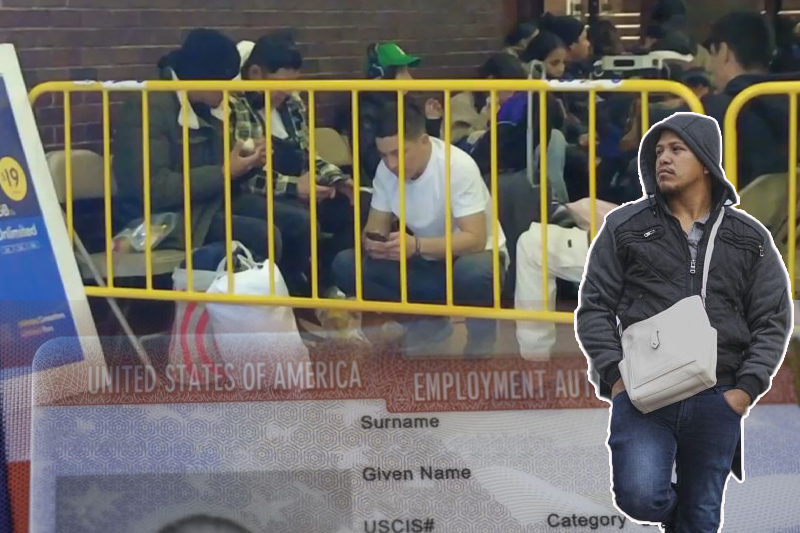 ny migrants wait months for work authorization cards, preventing them from getting jobs
The White House informs the I-Team that there are no immediate plans to help the tens of thousands of jobless asylum seekers currently living in the United States get hired more quickly. The announcement comes as some of President Biden's Democratic party colleagues are pressuring the administration to act on the matter, citing the rising local housing costs, businesses in need of workers, and migrants in need of employment.
"I have a family to support and a mother who is sick," says Eduardo Espinoza, an asylum seeker from Venezuela who is now living in a Brooklyn shelter.
On his arduous, five-month journey, baseball fan Espinoza was seen wearing his Yankees cap in photos and videos. He claims that many migrants are shocked to learn that getting a legal work authorization card would probably take less time than walking back and forth to Venezuela once they land in the United States.
"It's months of extra waiting that are completely unnecessary," says Rep. Dan Goldman, describing the federal law that requires asylum seekers to wait five months to apply for working papers and six months before they can become eligible.
According to Democratic leaders in the House and Senate, the Biden administration could immediately end that wait for some groups, including Venezuelans like Espinoza. Temporary Protected Status (TPS), which exempts an asylum seeker from the 180-day federal waiting period for work eligibility, may be granted by the president.
The I-Team was informed on Thursday by a spokesman for Senate Majority Leader Chuck Schumer that Schumer thinks the Biden administration ought to grant TPS to recently arrived Venezuelans who are seeking asylum.
Keep Reading
White House spokesman Seth Schuster responded on Thursday to an I-Team inquiry about the administration's position on efforts to shorten the wait by saying, "We do not have any TPS announcements to make or preview." Schuster then directed the I-Team to the Department of Homeland Security.
The care of 2,000 recently arrived migrants is putting a strain on resources, according to Congresswoman Chellie Pingree of Portland, Maine. "I wish we could have more success with the Biden administration," she said. Rep. Pingree wants Congress to shorten the wait from 180 to 30 days if Vice President Biden does nothing. However, a number of Democrats concede that the likelihood of Pingree's bill passing the House is slim to none.
The greater need, according to Republican Congressman Mike Lawler, is to secure the border and deal with the more than 11 million illegal immigrants living in the United States. "The system is strained and you're not going to fix it with a Band-Aid," he says. Shortening the time required for work permits, according to Lawler, may make sense, but only as part of a larger immigration reform agreement.
Republicans, such as Staten Island Representative Nicole Malliotakis, assert that the majority of immigrants do not have valid asylum claims and that granting work permits quickly would encourage people to enter the country illegally.
"Our immigration system is being overrun by them, harming other immigrants who followed the law. The ICE office in NYC now claims it will be unable to process any more people for the ensuing ten years "said Malliotakis.
The I-Team spoke with some asylum seekers whose ICE records indicated that their next check-in appointment was in 2027, but immigration lawyers claim they have encountered clients whose check-in dates have extended as far as 2032.
According to federal law, applicants for asylum cannot begin the six-month waiting period until after they have submitted their application for asylum, which is a difficult and expensive process that can take almost a year. Due to backlogs, the work authorization cards frequently arrive well after the six-month waiting period.
Lenni Benson, an immigration professor at New York Law School and the founder of the Safe Passage Project, which offers free legal services to immigrants, says that the president could implement it right away. But Benson points out that even if the president granted migrants TPS, making them immediately employable, he would still need to allocate funds to reduce bureaucratic backlogs.
"The waits are terrifying. And unless the government makes this a priority, people won't get the documents they need to demonstrate that they're legally in this country and qualified to work for up to a year "Benson remarked. The I-Team enquired about how many, if any, of the asylum seekers bussed to NYC since the spring of 2022 have received work authorization cards, but a spokeswoman for U.S. Customs and Immigration, the organization that handles them, did not respond. The applications are assessed effectively and humanely, according to a spokesperson for the agency, who also stated that "USCIS has expanded premium processing" and set new agency-wide backlog reduction goals. Paying up to $2,500 for "premium processing" allows an applicant to shorten their wait time to 30 days, which is unaffordable for many immigrants who are not allowed to work.
According to Benson, the waiting period was incorporated into the law to deter immigrants from applying for asylum when their true goal is to find employment.
Additionally, it's upsetting for company owners who frequently lack staff. Owner Mike Lopez of Benny's Cuban Café in Queens claims he's had to turn away more than 100 migrants who came to him looking defeated for work.
"Here at Benny's, the situation is not unusual. My colleagues in the sector call me frequently, and we frequently discuss how to get these people to work "Lopez said.
In the interim, employers are taking advantage of asylum seekers selling fruit and chocolates on the subways by underpaying them. Jesus, a Venezuelan, worked as an electrician for a contractor who allegedly stopped paying him and is now responsible for $3,500.
He told us that he was putting money aside to hire an immigration lawyer, and he showed us that he went to an accountant to have a tax return on his illegal income prepared.
Aid for Life founder Jesus Aguais said he has come across some upsetting recent cases, including one where immigrants were hired as messengers but unknowingly used as drug couriers.
"It makes a lot of abuses possible. Criminal organisations will enlist them if we don't take action to support them "Says Aguais.
Rep. Dan Goldman, who represents parts of Lower Manhattan and Brooklyn, said, "We're hopeful that the administration will be sensitive to the desires of the people coming here to contribute to our communities, as well as our businesses who want to hire these migrants.
He stated that Biden will be contacted by the New York congressional delegation.
We are currently starting those conversations, according to Goldman.
However, other Democrats have publicly urged the president to exercise his executive authority for months. Jerrold Nadler, a congressman from Manhattan, urged the president to "immediately redesignate TPS given the oppressive Maduro regime" in a tweet from last October.
Not for the first time, though. In the past, a group of migrants from Venezuela who were fleeing oppressive political and economic conditions were given special status. However, Venezuelans who arrived in the United States after 2021 are not eligible for the status, which comes with immediate work authorization. Along with Ukraine and Syria, the UN has ranked Venezuela's displacement crisis as one of the top three worldwide.
Remembering that "it's not illegal to come to this country and declare asylum" is crucial, advises Congresswoman Pingree.
The Biden administration recently announced plans to permit 30,000 migrants per month from four nations, including Venezuela, to enter the nation and work. However, under the new policy, they must apply for entry authorization from south of the Mexican border and have a sponsor in the United States. According to the same policy, migrants who enter the country unlawfully between ports of entry will be sent back to Mexico, according to the Department of Homeland Security.
Of the 50,000 migrants who have arrived in New York City since last Spring, according to Aid for Life, 26,000 are Venezuelan. While NYC offers food and lodging, asylum seekers are not eligible for the majority of government benefits. Without income, many people have had trouble paying for necessities like shoes, school supplies, MetroCards, and medications. Aid For Life provides migrants with food, clothing, and other necessities every Saturday morning. There are many there.
Espinoza, still wearing his baseball cap, claims that when he made the risky jump onto the moving Mexican freight train known to many as "the beast," an estimated 12- to 18-month wait for work papers was not what he had in mind.
He said, "We had to hang on for dear life.
Espinoza is currently stranded outside of Yankee Stadium and the economy, hoping that one day he will be able to earn enough money to purchase a ticket.