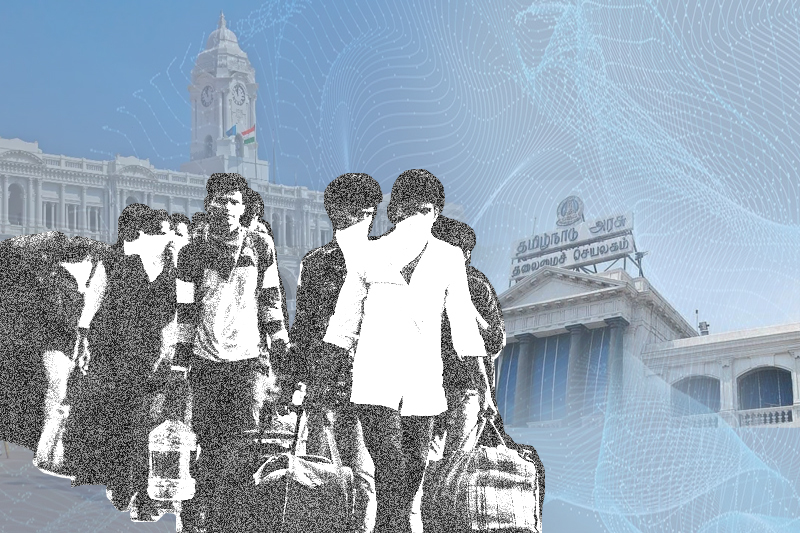 migrant workers in tamil nadu fear find the reason
Last updated on March 9th, 2023 at 07:06 am
They are scared of how the state has become a destination for interstate migrants. Look what the government is. Said
Disappointing news has been pouring in for the past few weeks about Hindi-speaking workers in Tamil Nadu. Social media platforms are already abuzz with such news.
The news began to spread in Tamil Nadu when two videos showing migrant workers being thrashed went viral on social media and WhatsApp groups.
The whole matter started after 2 videos were circulated on social media in which migrant workers are being thrashed.
Amid this proliferation of videos on social platforms or WhatsApp, another picture of migrant workers queuing up for trains in different parts of the state fueled the entire narrative of the state.
The government of Tamil Nadu has strongly condemned all the news about that workers from north India. The government said that the migrants were integral to the state's infrastructure development.
After than the Police of the state have registered a case for spreading false news about alleged attacks on migrant workers in the state against four people namely BJP spokesperson Prashant Umrao and 2 journalists.
Keep Reading
The state of Tamil Nadu is home to over a million migrant workers. Chennai and its industrial satellites of Tiruvallur and Chengalpattu are the main areas where they live.
Although the number of migrant workers is increasing in all sectors in the state, there are many challenges in it. Employers usually choose migrant workers because they work for much lower wages than local people but lose their interest when local workers come along.
Now coming back to the news, Tamil Nadu police and state officials and fact-checkers have said that the videos being circulated on the internet are false.
Such incident did not take place in the State or is not related to the claims being made.
They officials said on the pictures near the railway that the migrants are returning home from there, there was nothing serious in it. Circulation was done with fake agenda.
Non-Tamil workers have been reassured by the state government. This spate of unwanted incidents needs to be investigated properly and the culprits punished. The law should also ensure that migrants are paid minimum wages and receive social security benefits in addition to physical security measures, as well as eradicating tension between "us" and "them."
Also Read:- Gender equality is '300 years away,' U.N. chief warns