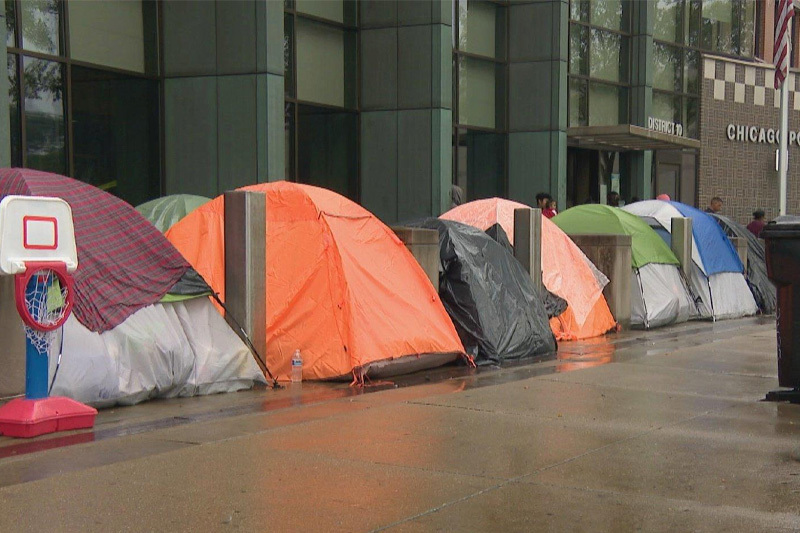 migrants' health in chicago suffer due to lack of health care
Migrants in Chicago have been suffering due to lack of healthcare in the city. As migrants continue to arrive in Chicago, the city has been struggling to provide adequate healthcare to them.
Chicago has struggled to house migrants. In recent days, Chicago has been working to support more than 15,000 migrants. However, the current health of migrants has deteriorated as the temperature has dropped in Chicago.
More than 17,000 migrants from Latin American and Caribbean countries have come to Chicago since August 2022. Migrants have been sleeping in streets, outside police stations, in recreational camping tents, and on roads. The situation has affected their health.
Migrant's health deteriorated
Migrant's health deteriorated in recent days. Over the past two weeks, Chicago has experienced an increase in rainfall and cooling temperatures. Families sleeping outside, often without blankets, have been suffering because of the common cold, the flu, and other diseases.
A migrant woman told the media, "Almost everyone has a sore throat." They were unable to see any doctor. Medical care was provided to only severely ill children.
Some migrant workers also suffered due to hand-foot-and-mouth disease and a contagious virus. Some migrants also suffered because of respiratory diseases. They demanded housing for all. However, the authorities are unable to take care of them.
Meanwhile, St. Louis, a major city in Missouri, has pledged to offer help to asylum seekers. Migrants in Chicago will go to St. Louis for work. St. Louis city will set up a foundation to provide jobs to thousands of migrants.
Keep reading
Migrant crisis in Chicago
Migrant crisis in Chicago has increased in recent months. Chicago has planned a migrant camp in a local neighborhood. However, the residents protested the move. A Chicago resident told the media, "Nobody asked us, nobody told us."
The residents called for migrants to receive better housing. A migrant told the media, "I don't want any of my neighbors to have to live on the streets or in tents."
Meanwhile, New York City has toughened its stance against migrant families. Eric Adams, Mayor of New York City, announced a 60-day limit on how long a migrant family with children can stay at any migrant shelter. Brad Lander, New York City Comptroller, condemned the move.