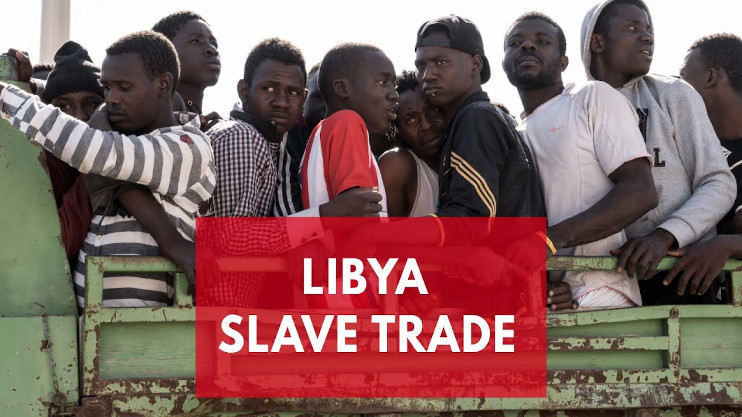 (C)Youtube
CNN journalists filmed a sale of human beings. The UN has denounced an "inhuman" situation, and Libya says an investigation will be launched.
CNN journalists filmed a human auction, hiding their cameras, in Libya, not far from the capital, Tripoli. In just few minutes, they witnessed the sale of a dozen migrants, ceded by smugglers for sums ranging from 500 to 700 Libyan dinars (up to 435 euros). These "slave markets" are said to take place once or twice a month.
This investigation by the American channel highlights the situations of slavery to which many migrants who transit through Libya to reach Italy, the gateway to Europe, are reduced. Interviewed by CNN journalists, a former slave who managed to escape recounts his daily life: "They force me to work, and beat me" he said. Following CNN's revelations, the authorities assured that an investigation would be launched.
The United Nations High Commissioner for Human Rights, Zeid Ra'ad Al-Hussein, strongly denounced the deteriorating conditions of detention of migrants in Libya, describing it as "inhuman", He also reported the suffering of these migrants, saying that this "modern day slavery" constituted.
"The international community cannot continue to turn its back on the unimaginable horrors endured by migrants in Libya, and claim that the situation can only be resolved by improving conditions of detention. "
At the forefront of the agreements with the Libyans, the Italian Interior Minister, Marco Minniti, responded by referring to his country's efforts in favor of the voluntary repatriation of 9,500 of these migrants this year to their countries of origin and the forthcoming transfer of a thousand "fragile" people (women, children and elderly) to third countries.
It is not the first time that such a trade has been denounced. In April, the International Organization for Migration (IOM) reported that human trafficking has become an increasingly common practice among smugglers.
Migrants from West Africa, when interviewed by IOM, said they had been bought and sold in garages and parking lots in the southern Libyan city of Sabha, where many exiles pass. They are sold for between 200 and 300 dollars (between 190 and 280 euros) and held for two to three months.
Originally mainly from Nigeria, Senegal and Gambia, the migrants are captured on their way to northern Libya, from where they intend to reach Europe by crossing the Mediterranean. Throughout this journey, they are victims of armed groups and smugglers networks, who sometimes try to extort money from them. Most migrants are used as day laborers in the construction and agricultural sectors.