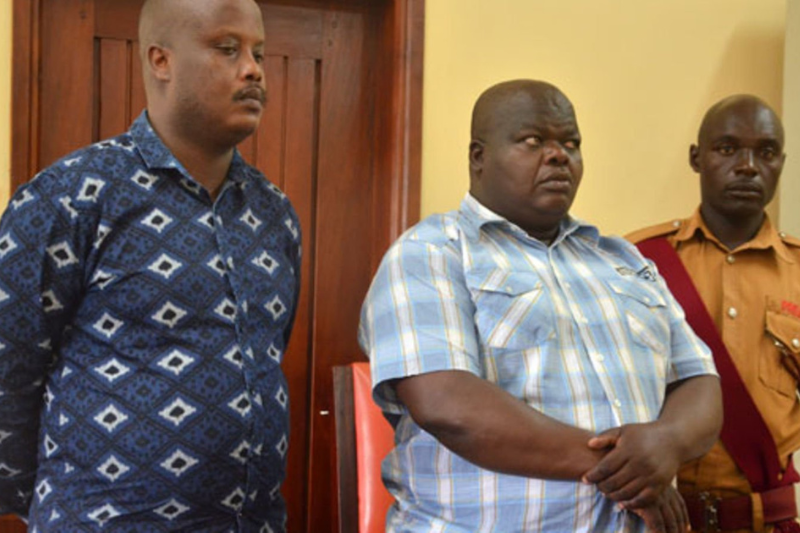 middle east consultants bosses convicted of attempting to traffic 50 migrant workers
Two senior executives from Middle East Consultants were convicted guilty of attempting to traffic 50 migrant labourers, marking a huge victory for justice and human rights. The verdict, handed down by the International Crimes Division of the High Court, marks a crucial step towards combatting the exploitation of vulnerable individuals seeking employment abroad. Justice Richard Wejuli Wabwire convicted the duo after they were found guilty of three charges of promoting trafficking and forgery.
Godfrey Kalimpa, 48, and Benon Kunywana, 36, held the positions of recruitment and vetting officer and general manager, respectively, and they pleaded guilty to the charges. Kalimpa and Kunywana attempted to traffick 50 migrant labourers at the Entebbe International Airport in Wakiso District back in February 2019. On the day of the incident, the duo forged an official document declaring clearance for the migrant workers signed by Mr Lawrence Egulu of the Ministry of Gender Labour and Social Development to traffick the labourers. Mr Egulu, the commissioner in charge of Employment Services, had incidentally arrived at the same airport on the day of the incident. Mr Egulu later confirmed that his signature was, in fact, scanned and that he had not participated in granting clearance to the migrant labourers. The list of migrant workers travelling that day, cleared by the Ministry, only included clearance for 227 labourers and not 277, as the forged document indicated. The victims, primarily from low-income homes, sought better opportunities and improved futures for their families. The accused CEOs allegedly exploited their hopes by promising well-paying employment and a stable future in the Middle East.
Keep Reading
The duo has entered into a plea bargain deal with the State to negotiate for a lesser punishment. The plea bargain was finalised considering the aggravating and mitigating factors of the case, as per Ms Jacquelyn Okui, the lead Prosecutor in the case. Ms Okui remarked that there had been a significant rise in trafficking cases, and there is an urgent need to punish such offenders for a deterrent effect.
In the present case, Justice Wabwire directed each of the two convicts to pay a fine of Shs2 million on each count of trafficking or risk imprisonment for two years. For the counts of forgery, the convicts have been directed to pay a fine of Shs3 million or risk imprisonment of three years.
The two Middle East Consultants employers' convictions mark a significant advancement in protecting the rights of migrant employees and keeping offenders accountable. The judicial system has clearly said that human trafficking and exploitation will not be allowed by bringing offenders to justice.
This significant decision also serves as a wake-up call for businesses and employment agencies involved in the labour migration industry. It emphasises the requirement for enhanced awareness and strict action to stop and resolve cases of abuse and trafficking. To safeguard migrant workers against dishonest practices, governments and regulatory authorities should work together to adopt and implement strict legislation.
The conviction of two Middle East Consultants officials for trying to smuggle in 50 migrant workers serves as a sobering reminder of the danger experienced by those travelling to other countries in search of better prospects. It also emphasizes how crucial it is to protect the rights and dignity of migrant workers and how important it is to take more decisive action against human trafficking and exploitation. The legal system makes an essential step towards fostering justice and accountability in international labour migration by prosecuting those at fault. Governments, employment firms, and civil society organizations must collaborate to make migrant workers' working conditions safer and to stop such abuses from happening in the first place.