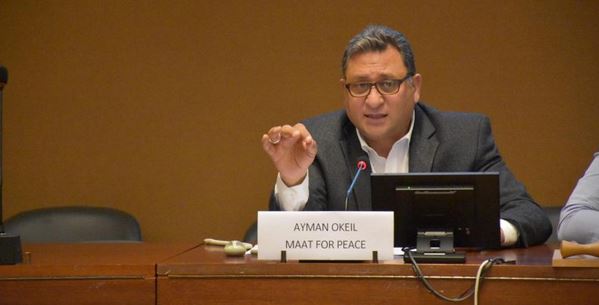 Maat Foundation for Peace, Development and Human Rights participated in the 97th session of the Committee on the Elimination of Racial Discrimination in Geneva, and in its interventions before the Committee regarding the Qatari and Iraqi countries reports' review, the Foundation presented 3 axes during the evaluation of the State of Qatar regarding violations suffered by the Al Ghafran tribe, as well as violations related to migrant workers And discrimination against women.
Ayman Aqeel, Chairman of Maat Foundation, stressed in his intervention the clear bias against workers, as published by the official census data of the Ministry of Development Planning and Statistics that there is 1.4 million workers who live in camps
The workers, explaining the restrictions imposed on foreign workers to change the employer or leave the country and withdraw the workers passports, following Qatar to listen to the observations issued by the committee and to show the true will for reforms in law and reality to fulfill its international obligations.
Menna Allah Abdel-Raouf, Head of the International Mechanism Unit at Maat Foundation, stressed the equality between men and women in granting citizenship to Qatari children, as the Qatari law does not give citizenship to Qatari children married to foreigners.
Menna Allah Abdel Raouf continued that the Iraqi electoral laws do not achieve a proportion of political representation that is proportional to the representation of ethnic minorities, as the representation of some minority groups is very low.
The committee followed the interventions of non-governmental organizations associated with the State of Iraq, where Ayman Aqeel stressed that the Iraqi government is still following the same approach since the last report issued in 2014 to ignore the issue of Roma altogether, and this is what it followed in its current report also submitted to the committee, and indicated the need to do a statistics that includes information On the ethnic composition of the population, amend the election law and review the representation of blocs from sects and minorities.For more news about Human Rights Latest News, Labour Rights Latest News