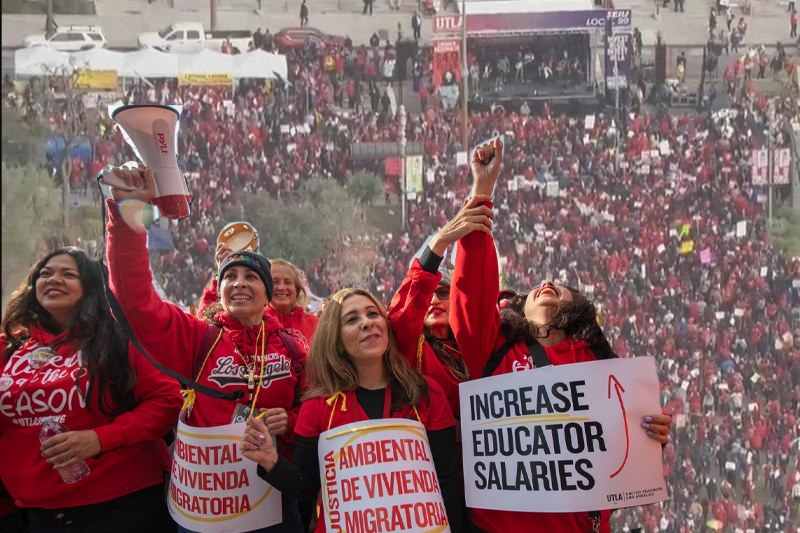 lausd teacher and staff 3 day massive strike set for tuesday, all schools to remain closed
Los Angeles public schools will be closed for three days starting Tuesday, union leaders announced during a massive downtown rally Wednesday.
Despite the COVID-19 pandemic forcing more than 420,000 students into remote learning for more than a year, Superintendent Alberto Carvalho urged union leadership on Wednesday to negotiate "around the clock" to avert the strike that would further harm them academically and emotionally.
By demanding higher pay and better working and learning conditions, union leaders are looking out for the long-term interests of students and workers.
With 65,000 workers expected to walk out, it would be the largest and longest disruption of education in the nation's second-largest school system since the six-day teachers' strike of 2019. Academic instruction was not completely halted even during the pandemic campus closures in Los Angeles that lasted over a year.
The Grand Park rally drew thousands of participants, filling so much of the park that massive loudspeakers couldn't even reach participants more than a block away, with members of Local 99 of the Service Employees International Union wearing purple and members of United Teachers Los Angeles wearing red.
As Local 99 Executive Director Max Arias told The Times, we must be prepared to stand strong. "I want to show the city of L.A. that we are going to strike in order to improve the schools, even if the students are going to be absent for a few days. At the end of the day, we need clean and safe schools for everyone."
According to him, the contract demands would increase the average salary of his members from $25,000 to $36,000.
There have been 26 sessions at the table, according to teachers union President Cecily Myart-Cruz. Since May, we have been there. And there has been very little movement. Several things have been agreed upon. In the meantime, we want to discuss the entire 'Beyond Recovery' contract proposal, as our working conditions affect our students' learning conditions."
Keep Reading
According to the UTLA proposal, special programs for Black students, smaller classes, and efforts to develop affordable housing are needed.
Local 99, which represents about 30,000 workers including bus drivers, custodians, cafeteria and food service workers, campus security aides, teaching assistants, and disabled students' aides, is leading the looming walkout.
UTLA, which represents 35,000 teachers, counselors, therapists, nurses and librarians, would join Local 99 in a solidarity strike.
Carvalho held a morning news conference in which he said he and district negotiators are prepared to meet to avoid a strike.
As Carvalho said, "I have two, three, and four chairs around the table." "I commit myself to finding a solution that will avoid, will avert, a strike that will prevent kids from being kept at home, will prevent them from going hungry without access to the food they receive at school."
Marisol Cabrera, a fifth-grade teacher at Montara Avenue Elementary School in South Gate, arrived at Grand Park draped in red with colleagues. She carried an iPad and a cutout of Carvalho.
While carrying a 3-foot long sign that read, "Carvalho doesn't care about our kids!" the 27-year veteran zoomed into a mandatory school meeting with her hand-held device.
'We're here in solidarity with our Local 99 friends to say we want to be in class, teach, and we don't accept the narrative that we're shutting down schools," Cabrera, 50, said.
At the rally, Special Education Assistant Amy Rendon was present with her toddler child. She works at Evergreen Elementary in Boyle Heights, tending to the children's needs through diapering, manual feeding and more. Although she earns $24/hr – which is above the minimum wage of $19/hr – she believes there are too many students in her caseload, hence leaving them with inadequate attention and instability because of personnel transitions. On Wednesday, School Board President Jackie Goldberg expressed hope that a strike wouldn't take place; however, her outlook had become less certain.
There hasn't been any back-and-forth since I've been doing this, Goldberg said. "There was simply a statement that: 'This is it. And that's it.' That's not negotiating.
According to Carvalho, Local 99 has not responded to the district's two most recent offers.
Local 99's spokesperson blamed the district for the stalled talks.
"LAUSD had two months to negotiate with SEIU Local 99 members," Blanca Gallegos said. We never heard from them. They did not move forward during mediation. SEIU Local 99 has not walked away from the bargaining table. Currently, we are at an impasse and are pursuing legal proceedings to negotiate."
Several union leaders have accused district leaders of negotiating in bad faith and failing to commit enough of the district's reserves to contract negotiations.
In his remarks, Carvalho took aim at the union's focus on the school system's anticipated $4.9-billion ending balance for the current school year. Because most of that funding has already been committed to future expenses or is restricted for special purposes or is a one-time grant, he said union leaders are giving their members "false hope."
The district, however, is prepared to enhance its current offer when union leaders return.
Carvalho said the district is in discussions with community groups about how they can help in distributing food on school days and assisting with child care. The district also prepares academic materials for students to take home.
Loyola Marymount University's new poll shows strong potential support for teachers if negotiations fail.
A pollster asked: LAUSD teachers have requested a salary increase. If labor negotiations fail, would you support or oppose LAUSD teachers and staff going on strike?
A strike was strongly supported by 39% of Los Angeles residents, somewhat supported by 37%, and opposed by only 10%.
In Los Angeles County, 79% of parents with children at home supported a strike.
Among residents of the Miami school district, Carvalho received middling to positive ratings. At least 16% gave him an A, 29% a B, 36% a C, 13% a D, and 9% an F. Carvalho became superintendent 13 months ago following a long tenure leading Miami's schools.
With 2,008 adults living in Los Angeles County, the poll was conducted on Jan. 4 through Feb. 5 via telephone, online, and in-person. A survey was conducted in English, Spanish, Mandarin, and Korean. LAUSD superintendent grade questions were only asked of city residents, while strike support questions were asked of all county residents.
Historically, strikes in Los Angeles Unified are relatively rare, and this one would be especially unusual due to the coordination between the two unions. Furthermore, Local 99 is claiming that the school district has illegally interfered with its members' union-related activities, not deadlocked negotiations. In both unions, mediation and fact-finding times have not been exhausted as part of the typical negotiation process.
According to Carvalho, his legal team is investigating ways to delay or prevent the walkout, but he did not elaborate.
According to Goldberg, a deal is still within reach.
She said, "We have the resources to make this the best offer in the country – not just for SEIU, but for the entire nation – ongoing, not one-time – ongoing because we value our employees."
Local 99 leaders announced an impasse in negotiations and are now undergoing mediation and fact-finding. The union, which has yet to settle wage issues dating to the 2020-21 school year, is calling for a 30% increase for all members, with an additional boost for the lowest-wage workers.
There will be a 5% ongoing wage increase retroactive to July 1, 2021, a 5% ongoing wage increase retroactive to July 1, 2022, and a 5% wage increase retroactive to July 1, 2023. Additionally, employees would be given a one-time 4% "retention bonus" for the current school year and a one-time 5% bonus the following year.
Teachers are seeking a 20% raise over two years, starting with 10% this school year.