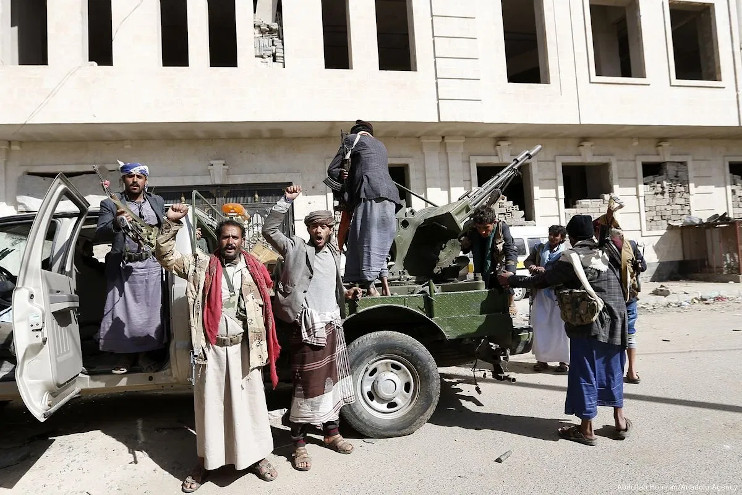 (C)Middle East Monitor
Human Rights Radar organization in the Arab world said, that the use of the kidnapped journalists by the Houthi militia in maneuvering and political blackmail is one of the worst forms of repression of freedom of opinion and expression, according to a number of medias which expressed about the subject.
In a statement, the international organization expressed its complete rejection of the decision issued by a Houthi court to kill the kidnapped journalists, which were kept in Houthi prison for 5 years in very poor conditions and have been tortured and left without food or water for long periods which constitutes in its self a very important violation of human rights and the right of expression.
The International Organization affirmed that the decision was issued by a court with no legal jurisdiction, given that the Specialized Criminal Court, in whose name the Houthis issued the decision, was represented by the legitimate authorities represented by the Supreme Judicial Council, who had decided to transfer them to Marib Governorate in 2018.
The organization called on the al-Houthi group to release all its kidnapped journalists to respect international conventions that ensure that parties to the conflict guarantee the safety of the journalists' lives and media workers, and spare them for political and military conflicts, to be in accordance with international laws and human rights principles.
The Organization said in its statement that "Human Rights Radar" confirmed in previously documented testimonies that the kidnapped journalists were subjected to torture during their detention, and that some of them even suffered from chronic diseases and life-threatening pain and have been left without any medical care or treatment to ease their suffering.
The decision to execute the kidnaped journalists was issued by the Houthi militias' court on April 11th, namely: Abdel Khaleq Omran, Tawfiq Al-Mansouri, Akram Al-Walidi, Harith Hamid, and imprisoned six other journalists for several years, namely: Hassan Annab, Issam Belghith, Hisham Tarmoum, Hisham Al-Yousifi, Haitham Al-Shehab, Salah al-Qaidi.
Reporters Without Borders also denounced the Houthi militia's decision to execute the four kidnapped journalists who were locked in its prisons five years ago, and demanded their release as soon as possible.
"This ruling should be repealed as soon as possible as it is an unacceptable and an illegal judgment and brings to mind the practices of ancient times," said Sabreen Al-Nawy, Middle East office official at Reporters Without Borders.
"These death sentences demonstrate the systematic, oppressive nature of the Houthi rebels against journalists, as they unveil their determination to use such rapid trials to settle their accounts with all critical media outlets," she added.
The Houthi court decision to execute these four kidnapped journalists after all they have been through during their 5 years of captivity in Houtis' prisons, and all the torture and poor life conditions, has obviously shown how barbaric and cruel the Houthis are to the Yemeni people, and have demonstrated once again how houthis violate even the most basic rights which is the right of expression.
International organizations have condemned these actions, but so have they done times and times before, for every houthi violation, however this doesn't seem to stop the militias from violating agreements and human rights without any consideration, that's why sanctions must be issued against the Houthi militias to stop the violations.