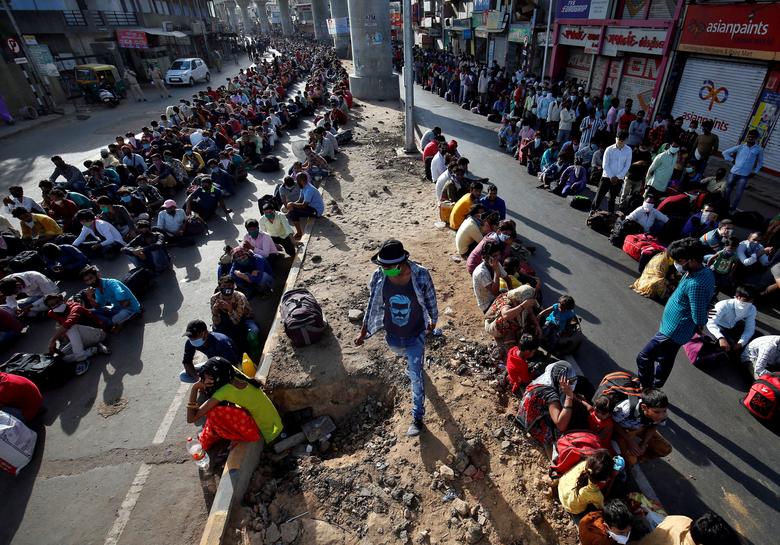 (C) Reuters
Millions of internal migrants are stranded in the midst of the lockdown in India and the lack of reliable data has exasperated their suffering.
The biggest lockdown in the world in nearly its two-month mark and there is still no end of the suffering it has wrought on the massive numbers of internal migrants who are stranded in various parts of the country, miles away from their homes. These are some of the most poorly documented people in the country and this was a massive hindrance in identity and delivery aid in the early days of the lockdown. It continues to obstruct the process of helping them travel safely back to their homes. Across the country, hundreds of thousands of migrants are continuing to undertake long, gruelling and dangerous journeys in order to avoid starvation and be with their loved ones.
In an effort to correct this, the union home ministry has launched an online dashboard for states to better communicate with each other regarding the numbers of workers stuck within their borders who are looking to come home. Developed by the National Disaster Management Authority, the National Migration Information System (NMIS) will "maintain a central repository and help the sending as well as receiving State and district to ask for and give their acceptance in an online format seamlessly", according to a home ministry communique.
The portal will record the details of each migrant worker including name, age, mobile number, originating and destination district, date of travel, etc. A unique ID will be generated for each person that will be used in all further transactions. This will not only help the destination states prepare for the influx but also help in contact tracing and monitoring while the pandemic lasts. It will also help for the return journeys when required.
Union Home Secretary Ajay Bhalla wrote to all the chief secretaries saying the system will "help in speedy communication between states without creating additional work at the level of the field officers". The state governments are required to depute a nodal officer for this purpose at the state and district level and those that have already been collecting migrant data can integrate that into the portal.
So far, it is has been estimated that about 350,000 migrant workers have been moved back home in 350 trains. Railway Minister Piyush Goyal tweeted that, "To provide relief to migrant labour, Indian Railways is ready to run Shramik Special trains from any District in the Country. District Collectors should prepare lists of stranded labour & destination and apply to Railways through the State nodal officer."
The announcement about this new database came on the day when 25 migrants workers were killed and many injured after a road accident in Uttar Pradesh, bringing into the limelight once again the continuing troubles of migrant workers in India.