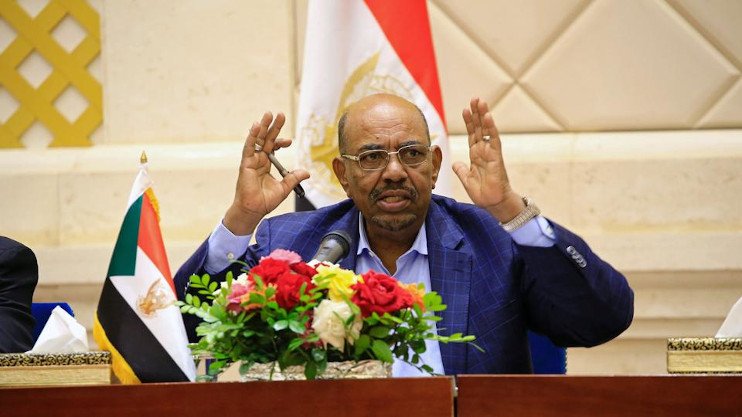 International human rights organizations today urged Khartoum to expedite the handing over of former Sudanese President Omar al-Bashir to the International Criminal Court after the new authorities in the country pledged to bring him to justice for war crimes in Darfur.
Sudanese officials said on Tuesday that the ruling sovereign council had agreed with some rebel factions to hand Bashir and three of his aides to the Hague-based court for their role in the conflict in the western Darfur region.
"The Sudanese authorities must translate these statements into deeds and hand over Bashir and other individuals immediately in accordance with the ICC's arrest warrant," said Julie Ferrhar, acting secretary-general of Amnesty International, in a statement.
Omar al-Bashir is wanted by the International Criminal Court on charges of murder, genocide, forced deportation, torture and rape that killed hundreds of thousands of people during the conflict in Darfur that erupted in 2003.
"The decision to hand him over to the court will be welcomed as a step towards justice for the victims and their families," said Verhar.
The conflict in Darfur erupted when rebels belonging to African minorities took up arms against the Bashir government, which was accused of marginalizing the region economically and politically.
The International Criminal Court has accused al-Bashir of genocide, war crimes and crimes against humanity because of his role in the conflict. But he denied these accusations and managed to travel without restrictions in defiance of two ICC memos of arrest.
The court also indicted three of his former aides, Ahmed Haroun, Abd al-Rahim Muhammad Husayn, and Ali Kushid.
Al-Bashir is being held in Sudan, where he has been charged with corruption.
Mohamed Hassan al-Taayishi, a member of the Transitional Sovereign Council in Sudan, said Tuesday while he was in Juba, the capital of southern Sudan, where a government delegation met with rebel factions that the government had "a conviction in approving the appearance of those against whom arrest warrants were issued before the International Criminal Court." This, he added, "is a product of a fundamental principle linked to justice."
He told reporters in Juba, "We agreed to fully support the International Criminal Court and we agreed to hand over the four criminals wanted by the court, one of whom is Al-Bashir and three others. The court knows them and we fully support the criminal court's accusations in facing them and the need to extradite them." But he did not specify when the decision will be implemented.
"The large-scale attacks by Sudanese security forces on civilians as part of the campaign of intimidation led by al-Bashir, including sexual violence that is pervasive as a weapon of war, have had devastating effects on," the US-based NGO Doctors for Human Rights.
"It has been a long time and its victims and their families have not received justice."
Al-Taishi said that they agreed on several mechanisms to achieve peace in Darfur, including the establishment of a special court to investigate crimes.
Sudanese government spokesman Faisal Mohamed Saleh also confirmed to France Press that "Al-Bashir and others will appear before the International Criminal Court. This is the government's decision and its position."
Al-Bashir was arrested after his dismissal and sentenced to two years' imprisonment for corruption.
The demonstrators, the people of Darfur and the rebel movements in the region, have constantly demanded the surrender of the ousted Bashir to the International Criminal Court.
Years of conflict in Darfur and other regions, and the secession of South Sudan in 2011, left an exhausted economy that was the main factor in the outbreak of protests against Bashir in 2019.
But ten months after his overthrow, the country still suffers from a severe shortage of bread, fuel and foreign currencies, all of which hinder economic recovery.
"I have been waiting more than an hour for queues to buy bread," government employee Mahasin Ahmed said, as she waited with dozens of others outside a bakery in north Khartoum.
"Every family is divided these days in some way. Some are standing in line to get bread, others for fuel and others for gas," said Hassan Ahmed, an employee in the private sector, as he waited to fill his car at a gas station.