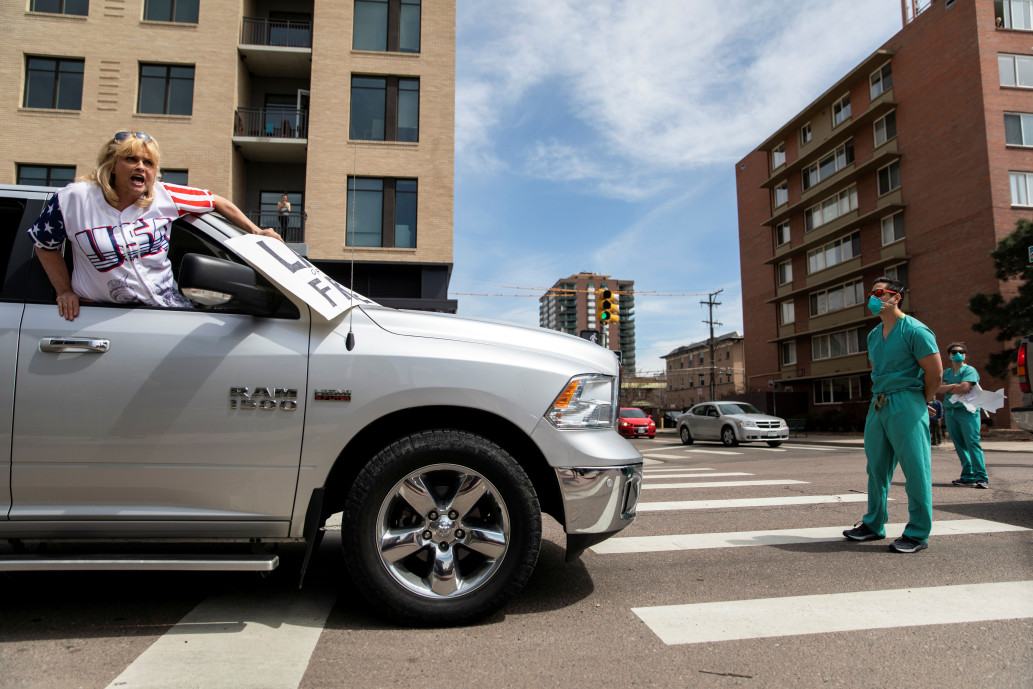 (C)nypost
Several people are taking to the streets of the United States to stage protest against the lockdown imposed by the government to curb the spread of COVID-19 pandemic. Several US states have been witnessing mass demonstrations against the Coronavirus shutdowns in the past week. Joining these states, people in Colorado's Capital Denver also staged peaceful protests on Sunday against the government's stay-at-home orders and closures of nonessential businesses in the wake of lockdown imposed for their health safety.
Horn-honking motorists clogged the roads leading to the Capitol building. People waved flags and raised placards with slogans such as "Land of the free", "End the virus, not the economy", "Freedom over fear", "Free Colorado" and "I would rather risk coronavirus than socialism".
In order to stop these demonstrators, Denver's healthcare workers also took to the streets and staged counterprotests. Pictures have gone viral showing healthcare workers in clads and facemasks standing strong in front of the cars of the protesters. Nurses and other healthcare workers were seen in their uniforms, silently obstructing the movement of demonstrators who were defying the lockdown.
As per media reports, the medical professionals were also heckled with insults by the demonstrators amid their counterprotests. However, they did not respond to the heckling and continued to stand defiant against the protestors.
When the situation went out of hands and the protestors started threatening to run the healthcare workers over, the police were called in to control the matter.
The anti-lockdown demonstration on Sunday was titled 'Operation Gridlock' with hundreds of people flocking to the streets and demanding Governor Jared Polis to lift the shutdown in the wake of COVID-19 pandemic. This action was taken by the people in the wake of rising unemployment and economic crisis. As per a state report, Colorado's unemployment rate rose from a historic low of 2.5% in February to 4.5% in March amid the pandemic crisis. People have also expressed threats to their personal freedoms and constitutional rights due to the lockdown. Despite appeals by the public health authorities, the rally organizers have defied social distancing norms and denied to wear face-covering or masks.
Similar protests have previously erupted in areas of Texas, Virginia, Wisconsin and the capitals of Ohio, with people demanding to put an end the lockdown. US President Donald Trump has also praised the actions of the protesters and extending his support to demonstrations against COVID-19 lockdown.
These anti-lockdown protests have erupted amid rising Coronavirus cases in the United States, with over 7,70,000 confirmed cases across the country and over 41,000 reported deaths (as of April 20).