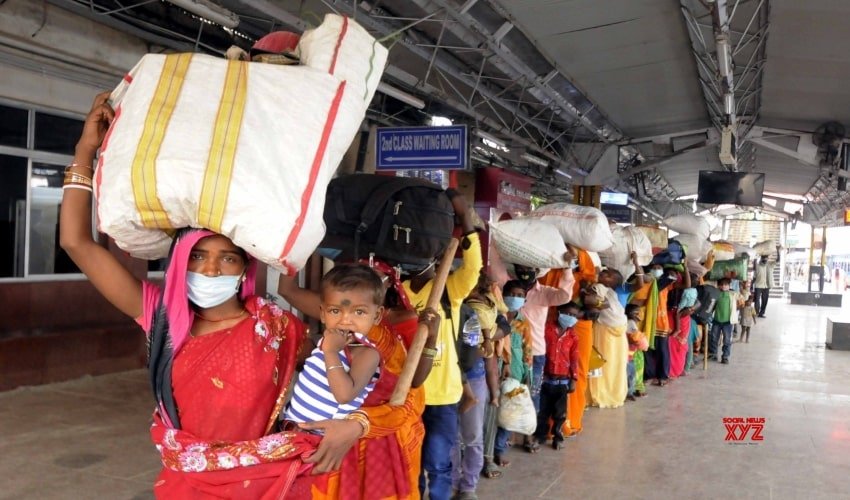 Responding to a question in the parliament, the Centre said it didn't have any data on the number of migrant workers who had died since the lockdown and so couldn't compensate them.
Responding to a question in the parliament, the Centre said it didn't have any data on the number of migrant workers who had died since the lockdown and so couldn't compensate them.
As the Monsoon session of the parliament began, the Centre revealed that it has not collected any data on the deaths of migrant workers since the lockdown. In response to a written question asking if the government was aware of how many migrant workers lost their lives trying to return to their hometowns and whether compensation will be provided to them, the Union Ministry for Labour and Employment replied that "No such data was maintained" and so the question of compensation "does not arise".
They don't have data on migrants or doctors or any healthworkers who died serving the country in such a dire crisis. These high death tolls raises serious questions but now when there is no data, how convinient can that be. 😑#healthcareworkers #India #migrants #COVID19 https://t.co/zPfBbO99zf

— Rachana Rithu (@RachanaRithu) September 17, 2020
Following the announcement of the lockdown that gave the country barely four hours' notice, the millions of migrants who were stuck in cities without jobs or shelter were desperate to go back home. With all transportation having come to a standstill, they were left with no choice but to walk thousands of kilometres on foot, many dying from exhaustion in the process. After several weeks of such tragic stories, the government started running special trains that were erratic and expensive. According to the government, more than 1 crore migrants had travelled back to their homes during the lockdown through various modes of transportation.
While the government may not have any statistics on the number of deaths, several media organisations, NGOs and research groups have been making an attempt to tabulate these occurrences. Data from states suggest that nearly 110 deaths were caused in the special Shramik trains due to reasons like pre-existing illness and COVID-19. Some bodies were found on the tracks, run over by trains.
Utter callousness- Centre doesn't care about deaths of migrant workers they caused by pushing them in to trains, makeshift carts and on foot to the distant homes. At least acknowledge tentative and incomplete data of rail Sharmik Trains and road accidents #migrantslivesmatter

— Thomas Isaac (@drthomasisaac) September 15, 2020
India Today had documented details of 238 migrant workers who died between March 24 and May 28, due to a variety of reasons – being burnt to death in forest fires, being hit by buses, trucks or trains, exhaustion, heart attacks, being trapped in snow, dehydration, multi-organ failure, snake bite and several other reasons. Uttar Pradesh saw the highest number of deaths with at least 99, with other states like Madhya Pradesh, Maharashtra and Bihar recording deaths in the 30s.
A Delhi-based NGO, SaveLIFE Foundation, which works on road safety, calculated that at least 198 migrants had died in road accidents in the two months since the lockdown was announced. Another database prepared by independent researchers says there were 971 non-coronavirus related deaths since the lockdown and among these were migrant workers who had died due to several reasons. These numbers are based on media reports and are so are by no means exhaustive. Many reports, especially in regional languages, could not be tracked and the media might also have missed reporting on several deaths. But the government could have and should have done a better job of documenting these deaths. Several opposition leaders have criticised the Centre's terse response on the matter. Congress leader Rahul Gandhi tweeted asking if the deaths had not taken place just because the government hadn't counted them. "The world has seen their deaths," he said, adding that it was just the Modi government that had no information on it.