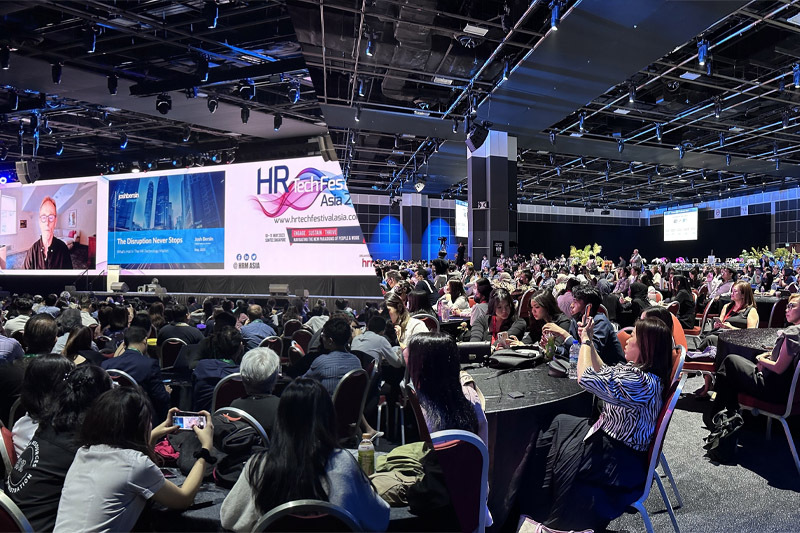 get ready for hr tech festival asia 2023 insights into the future of hr transformation
The HR world is evolving rapidly and it's time to prepare for the most anticipated event of the year – HR Tech Festival Asia 2023! This event promises to be a game changer, bringing together industry experts, thought leaders, and innovative technologies worldwide. In this blog post, we give you an idea of ​​what to expect from this festival and how it will shape the future of HR transformation. So buckle up and get ready for an exciting journey that will take your organization's human resources to new heights!
Presentation of HR Tech Festival Asia 2023
HR Tech Festival Asia is Asia's leading technology event for HR professionals. The three-day festival offers insight into the latest HR technologies and trends, focusing on how they can transform HR processes and practices.
The festival includes a variety of interactive sessions, workshops, and panel discussions, as well as an exhibition showcasing the latest HR technology products and services. Participants will have the opportunity to network with other HR professionals and learn from industry experts.
So mark your calendars and start planning your trip to Singapore for HR Tech Festival Asia 2023!
An Overview of the HR transformation landscape
The HR transformation landscape is constantly evolving as new technologies and approaches are developed to help organizations achieve their HR goals. To stay ahead of the curve, it's essential to keep up with the latest trends and developments in the world of HR transformation. HR Tech Festival Asia offers a great opportunity to learn about the latest innovations in HR Transformation and network with leading experts in the field.
Key Trends in HR Technology of the Future
1. Artificial intelligence (AI) and machine learning (ML) are playing a bigger role in HR technology.
2. The use of chatbots and virtual assistants is becoming more and more common.
3. Mobile technologies continue to be important for HR, with a focus on employee engagement and well-being.
4. Cloud-based solutions are becoming more and more popular.
5. Data analytics is used more widely in decision-making.
The impact of artificial intelligence, robotics,, and automation on HR changes 
Three big forces are driving the future of HR change: artificial intelligence (AI), robotics, and automation. All of these technologies impact how HR functions are performed today and will continue to do so in the future.
Artificial intelligence is changing the HR landscape by automating many tasks traditionally performed by HR professionals. This includes tasks such as recruitment, performance, and training. Robotics is also playing a role in transforming HR by providing an automated workforce that can perform tasks such as data entry and payroll. Automation allows HR departments to move away from manual processes to more efficient and streamlined operations. These three technologies will have a major impact on the future of HR transformation. As they become more common in the workplace, HR departments must adapt their practices to keep up with the changes.
Keep Reading
Strategies for maximizing the benefits of new technologies 
1. Understand what technology can do: It is important to have a good understanding of what technology can do and how it can be used to improve HR processes. This will help you identify areas where technology can be used most effectively.
2. Work with vendors: Work with vendors who have experience implementing technologies that interest you. They know how to advise you on how to get the most out of technology and ensure it seamlessly integrates with your HR processes.
3. Train your employees: Employees must be trained to use the new technology. This ensures that they can fully utilize its features and understand its benefits.
4. Evaluate and measure results: Once a technology is implemented, it is important to evaluate and measure its impact on HR processes. This will help you decide whether or not it will deliver the desired results and justify the investment.
Best practices for adoption and implementation of new technologies
There is no one-size-fits-all solution when it comes to personal changes. Every organization is different and must tailor its approach to its specific needs and goals. However, there are some general best practices that all organizations should consider when adopting and implementing new technologies.
1. Define your goals and objectives
Before implementing a new technology, you must clearly define your goals and objectives. What will you achieve through personal change? What specific HR areas do you want to improve? Once you have a good understanding of your goals, you can start looking for technologies that will help you achieve them.
2. Do your research.
There are many different HR technologies out there, so you should do your research before deciding which one is right for your organization. Talk to other organizations that have already gone through HR transformation and see what worked well for them. Read case studies and articles on various HR techniques. And most importantly, take the time to talk to vendors and see demonstrations of their products before making any decisions.
3. Create an action plan.
Once you've done your research and decided on the right technology for your organization, it's time to create an action plan. This plan should cover everything from who is responsible for implementing the new technology to how it will be implemented throughout the organization. Be sure to include timelines
HR challenges are changing due to digital disruption 
Digital transformation is one of HR's most pressing challenges today. With the rapid pace of technological change, the HR manager must constantly adapt his processes and practices to keep up with the latest innovations. This can be a challenge in itself, but it is further complicated by the fact that digital disruption is often accompanied by other types of change, such as organizational change. You can navigate them successfully
End Note-
The HR Tech Festival Asia 2023 will be a great event for all HR professionals looking to keep up with the latest trends and learn more about the future of HR transformation. This year's event is sure to be bigger and better than ever, featuring an even wider array of workshops, keynote speakers, networking events, and opportunities for attendees to engage with experts in their field. We look forward to seeing you at this year's festival!