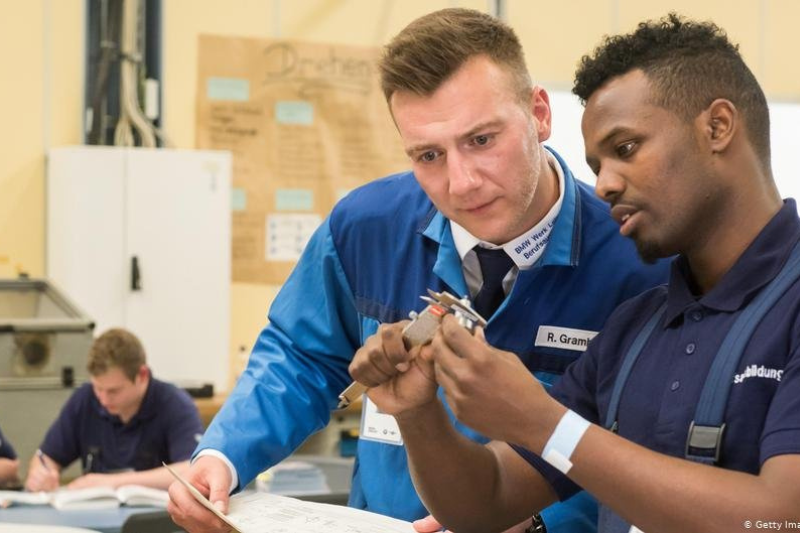 german skilled labor migration law 2023 changes what's in it for migrants
The new immigration law in Germany, known as the Skilled Immigration Act, has undergone critical updates to attract and retain international talent in light of the ongoing need for skilled labor.
These changes, which will go into effect in June 2023, will remove administrative obstacles, broaden the definition of a qualified professional, and create new pathways for skilled immigrants.
This article is a must-read if you want to understand the life-changing opportunities and the streamlined process the updated law offers, regardless of whether you're an IT specialist, a seasoned professional, or someone with promising potential. Its primary goal is to lessen the shortage of skilled workers by, among other things, lowering the barriers to entry for both foreigners with current professional credentials and individuals with sufficient work experience who already have a job offer.
Greater opportunities for those seeking asylum-
Those who are applying for asylum in Germany and whose application is already in process will have the option of stopping the application process retroactively and applying instead for a work and residence permit.
To switch systems up until now, they had to leave the country and submit an application for a regular visa with no assurance that their request would be granted.
This transition is now possible thanks to a law change known as a "Spurwechsel" (lane change), but it only applies to asylum seekers whose applications were already in process as of March 29 of this year.
Herber Brücker, a migration expert, estimates that approximately 415,000 people in Germany have unresolved asylum cases and may now request to be switched over.
The lane change procedure can be used by anyone, including those whose application for asylum is likely to be approved, such as Syrian and Afghan nationals, who typically have high protection rates. This would hasten their integration process because they would get their residence permit more quickly.
However, according to Brücker, only 30,000 to 50,000 individuals will shortly benefit from the implementation of the lane change; among other factors, he claims that only 70% of those who have a pending asylum application are of working age.
However, the new procedure applies to the approximately 215,000 Germans who have had their asylum claims denied; many of these individuals continue to live in Germain with a "tolerated" status.
If they have resided in Germany for more than five years, can demonstrate that they earn a living through employment, and have all issues about establishing their identity resolved, they may also apply for a residence permit at this time.
The 'opportunity card', a new invention in Germany-
As part of the new law, a "chance card" (Chancenkarte) with a points system will also be implemented. People who have completed at least two years of foreign vocational training or who hold a bachelor's degree along with rudimentary German language skills may find this topic of particular interest.
The Chancekarte is made to help people find work even if they don't already have a job lined up. Foreigners without a job offer can travel to Germany for a year and apply for any job that complies with skilled labor standards with this opportunity card. According to a news agency, a comparable model is already utilized in Canada.
Language proficiency, work experience, age, and evidence of a connection to Germany—such as having family members or history in the nation—are all required for the Chancekarte. The applicant's chances of being granted permission to enter Germany as a job seeker increase as more points are accumulated.
While they look for a job that meets their qualifications, they can also accept part-time work (up to 20 hours per week).
However, according to migration researcher Brücker, prospective skilled workers will find it difficult to evaluate some of the risks associated with this model. In some cases, this could mean that an individual would have to leave Germany again after a year even if they had found employment but did not meet other requirements for the program.
Keep Reading
Relaxation in 'EU Blue Card' rules-
The EU Blue Card continues to be the main component of skilled worker immigration to Germany. This is a residence permit for non-EU nationals who have earned a college degree.
Here, a significant reduction will be made to the previously applicable salary threshold for accepting employment in Germany. It will now be more straightforward to change employers, apply for family reunification, and obtain permanent residency in the EU, among other aspects of the program.
Additionally, skilled workers will have the freedom to "pursue any qualified occupation"—even if it is one for which they were not originally qualified. This implies, for instance, that a professional who has been recognized as a businesswoman for office management may work as a specialist in the area of logistics.
If they can show proof of other qualifications, it is envisioned that IT specialists in particular will be able to obtain an EU Blue Card even without a university degree.
Acknowledgment of degrees-
The requirement to produce degrees that are recognized in Germany has long been a significant barrier to immigration to the country.
If they can demonstrate that they have at least two years of professional experience and a degree that is recognized in their country of origin, skilled immigrants will no longer be required to have their degrees recognized in Germany under the new law.
Now, anyone who already has a job offer in hand can travel to Germany and begin working while the process of having their degree recognized is still in progress.
More migration chances based on education-
The coalition that controls Germany's government also wants to increase the possibility of people moving permanently to the country for academic or vocational training.
Foreign students will be able to work in Germany as student trainees, for example, to support themselves while pursuing their degree, to facilitate this.
Additionally, by increasing the oldest age at which a residence permit may be issued, residence to seek a training position will also be made significantly easier.
Work and temporary employment are both permitted, and the maximum stay period for a residence title will be extended to nine months.
Making it simpler for skilled workers to reunite families-
For skilled foreign workers, there will be more opportunities for family reunification.
In contrast to the original draught of the law, reunification options will also apply, for instance, to a foreign national's parents and in-laws who will soon be able to visit Germany to be with family.
Greater latitude for residency permits-
The German Residence Act had previously required that every entry into Germany be connected to a visa with a specific purpose.
This meant, for instance, that a traveler who arrived in Germany intending to visit had to leave the country and reapply for a new, purpose-specific visa if they received a last-minute job offer there.
This will no longer be required in the future, allowing visas to be modified as needed while a visitor is in Germany.
However, it might take some time before all administrative offices in Germany have all the tools they need to implement these changes.
A final note on German skilled labor migration law 2023-
The Skilled Immigration Act of 2023 is a step in the right direction toward resolving Germany's skilled labor shortage, to sum up. With the passage of this legislation, legal immigration will have a greater impact on the nation's economy and innovation. Germany stands to gain a lot from this new framework given its emphasis on luring in foreign talent and providing a welcoming environment for qualified professionals from all over the world.