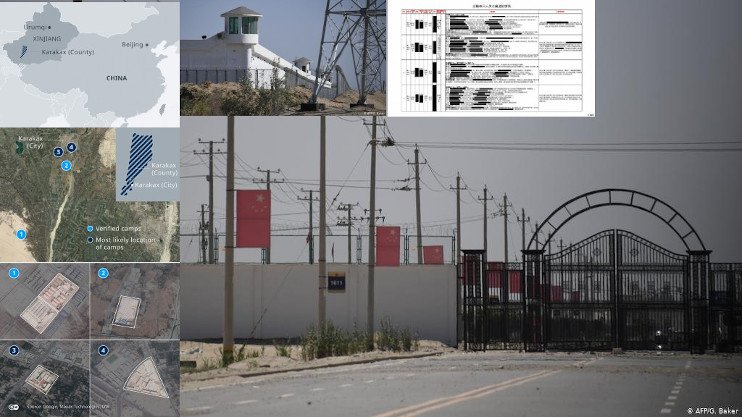 A confidential document prepared by the German Foreign Ministry concluded that the human rights situation in northwest China's Xinjiang region is witnessing a "significant deterioration", warning that the Uighurs who were deported to China may disappear "indefinitely".
The classified document was leaked to German media outlets that reported increasing repressive measures and systematic discrimination against Uighurs as well as other Muslim minorities in China, since late 2016.
The Ministry of Foreign Affairs compiled the secret report on human rights in China in December 2019 as an advisory document to the Federal Office for Immigration and Refugees in Germany, which decides on asylum applications.
In its assessment of the human rights situation in Xinjiang, the Foreign Ministry said that more than 1 million out of about 10 million Uighurs were believed to have been held in camps built by the Chinese authorities in late 2016.
The report found that a number of Uighurs are being held indefinitely, some of whom are transferred to labor camps, while others are allowed to return to their homes under strict supervision from local authorities, while severely restricting their freedom of movement.
The classified document stated that there were reports of sexual violence and deaths in detention camps, in parallel that relatives of detainees held abroad were subject to increased supervision with the possibility of being arrested and interrogated.
The Chinese authorities claim that the camps are vocational training centers created to fight "extremist ideas" in order to teach the Uighurs "valuable skills" and the detainees are also said to undergo a rigorous process of indoctrination and language courses.
The report revealed that the Chinese authorities are pressuring several governments including Egypt, Kazakhstan, Malaysia, Pakistan and Thailand to transfer the Uighurs to China.
The document says that China punishes the entire population under the slogan of fighting terrorism, targeting the Uighurs language, religion and culture, and places them under a coherent network of continuous electronic surveillance.
According to the report, China suspects any Muslim – whether it is Uighurs or another Muslim minority – for backing and spreading extremist views.