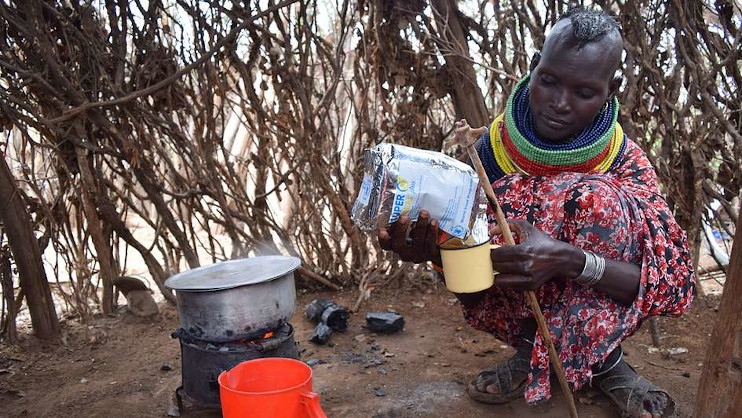 (C)WeltHungerlife
When there already are 820 million people across the globe going to bed hungry, the COVID-19 pandemic can double up the world hunger crisis, as per experts. The health emergency has brought severe disorder to the global food supply chain and toppled world economies. Ensuring food security for the global population is posing a larger challenge for the countries amid the fight against COVID-19. The global economy is sliding into a recession and it will have catastrophic consequences for the poor countries in particular.
Due to the mounting threats to the food supply chain, people suffering from hunger will only increase, particularly in developing and poor countries that are facing a double crisis in the form of hunger and Coronavirus. Due to lockdown, it will become difficult for developing countries of Africa and Asia among others to cultivate food in sufficient quantities and ensure food security.
Even though there is sufficient food production, the worldwide lockdown restrictions have largely disrupted the transportation of the produce and resulted in a shortage of labour across the countries. Due to the disturbed supply chain, food shortages are looming in many countries.
Therefore, along with keeping focus on strengthening the public health system, it is also important for the governments to ensure that the supply chain keeps functioning and trade routes are open and free during the lockdown. Various countries have introduced relief measures for their poor. However, more needs to be done. The Food and Agriculture Organisation of the United Nations (FAO) has called for international co-operation and supple arrangements to protect global food markets. There will be a need for a long-term support system for the poorer nations to recover from the aftereffects of the COVID-19 pandemic.
The World Food Programme has also warned that at least 30 million people could die of starvation during the pandemic if necessary action is not taken immediately. David Beasley, executive director of WFP, has urged the global leaders to continue aid for millions of people suffering from hunger during the difficult time. The World Food Programme feeds up to 100 million people a day in more than 80 countries. The World Food Programme has further called for the world leaders to balance out the COVID-19 response while maintaining the economy, warning that more people will die from starvation than from the disease if the balance is maintained.
The heads of WTO, WHO and the UN have also warned of increased risks of global food shortage if the Coronavirus outbreak is not controlled on time. The three international organizations have urged for efforts to ensure a free flow of trade amid the lockdown to avoid food shortages.
The pandemic has hit the world at a time when the United Nations is aiming to end all forms of hunger and malnutrition by 2030 such that food is accessible and sufficient for all people, particularly for those living in poor and vulnerable situations.