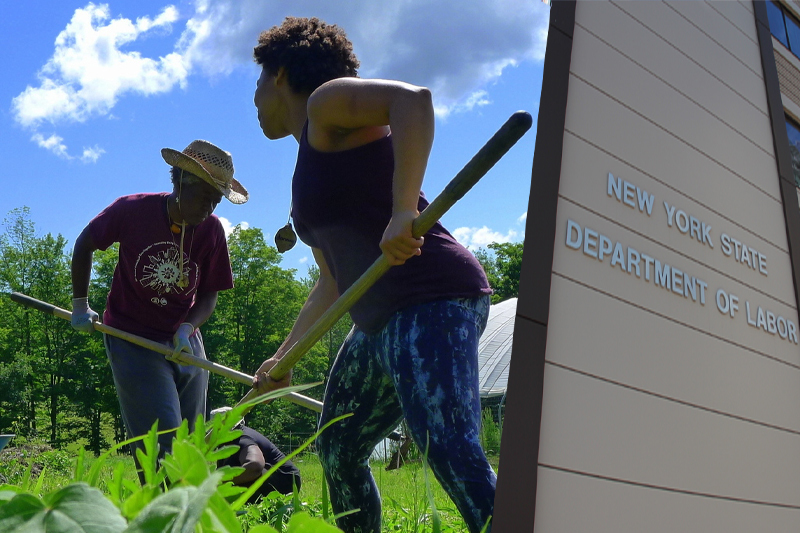 farmers react to new overtime rules
Starting next January, farmers in New York state will be required to pay overtime to their workers after 56 hours on the job.
As recommended last fall by the Farm Laborer Wage Board, the state Department of Labor on Wednesday adopted the final overtime regulations for farm workers.
For farm laborers, the board recommended phasing in 40-hour work weeks by 2032. Hours per week until overtime kicks in are gradually being reduced. The limit will be 56 hours next year, and 4 hours will be reduced every other year until it reaches 40 hours by 2032.
Niagara County farmers reacted cautiously to the news.
A sixth-generation farmer in Newfane, Max Russell, noted that farming is about investing in crops that may or may not succeed, due to weather or price fluctuations, and that labor costs may reduce crop diversity.
Keep Reading
As an example, Russell said he would like to invest "tens of thousands" in tomatoes, but the crop is labor-intensive, so he may focus more on row crops, such as soybeans and corn.
To soften the blow of the lower overtime threshold, the state Legislature recently enacted new tax credits for farm employers. Among them: the Investment Tax Credit was increased to 20% from 4% to potentially encourage the automation of farm production; the Farm Workforce Retention Tax Credit was increased to $1,200 per employee; and a refundable tax credit was established for overtime hours paid at the level set by the new regulation up to 60 hours.
Russell said, "Supposedly, we'll be reimbursed twice a year for the refundable tax credit, but that's another unknown."
Russell said it's not really something farmers want to do to spend operating capital to pay their workers and then recoup it when crops come in.
"That's what leads to some crops being cut down," he said.
As Jeremy Verratti, a fourth-generation dairy farmer in Gasport, pointed out, adding workers to the payroll and not working them overtime means building more housing for migrants.
When people hear that workers don't work as many hours, they think, "Oh, they'll be able to spend more time with their families." The problem is that most of our workers do not have families with them. They work and send money to their families and want to work as much as possible to get back to them.
In addition, Verratti admits that he is a "price taker." He does not set the price for his milk, he sells it at the market rate, and he has to balance that with his operating costs.
Also Read:- 10 Of The Richest Cities In America: See Where Your City Stacks Up