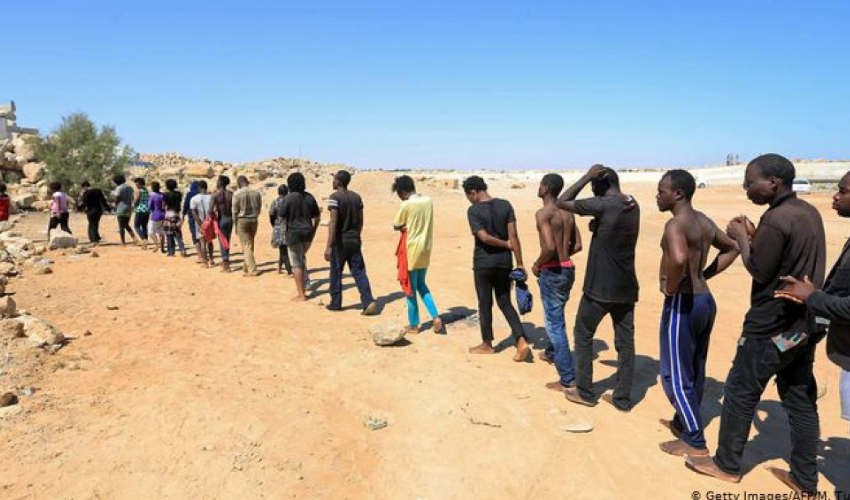 Egypt repatriated 23 of its citizens from Libya
Egypt repatriated 23 of its citizens from Libya, where they worked as migrant labour. Egypt's official news agency reported that Cairo's instant decision for quick repatriation of migrants was a response to a video, which had been doing rounds on social media forums. The video posted earlier this week, showed how militia allied with Tripoli-based government, detained and assaulted the migrants, and forced them to stand on one leg with their bare feet on sand and raised hands. Besides, the detained men were compelled to hail the operations of Tripoli-based government, led by Prime Minister Fayez Mustafa al-Sarraj and repeat after the militia men the abuses hurled at Egyptian President Abdel Fattah El-Sisi and Libyan warlord Khalifa Haftar.
The assault video sparked wide outrage especially among Egyptian leaders and public. Egyptian immigration minister Nabila Makram told the local media that it "will not pass lightly and the Egyptian state does not allow assault on its citizens abroad." Egyptian Parliament Speaker Ali Abdel-Aal, in a message to Sarraj's Government of National Accord said that the Cairo government would "determine the time and place of its response."
On Wednesday, the Interior Ministry of the UN-recognised GNA released a statement which read that Tripoli-based governments had arrested the culprits, who appeared in the video and were seen torturing the migrants.
"Historical Libyan-Egyptian relations cannot be threatened by isolated acts that do not represent the Libyan state or the values of the Libyan people," read the statement. "The Interior Ministry affirms that it will go after whoever violates rights and laws firmly."
Besides, Egyptian leaders, the UN mission in Libya also condemned the act by calling it a violation of human rights law with respect to "prohibition of torture, inhumane and degrading treatment or punishment".
As per the security reports, the Egyptian workers arrived at Marsa Matrouh, a Mediterranean resort town in northwest Egypt, on Thursday. Egyptian migrants were targeted because Egypt stood in support of General Haftar, who launched an offensive campaign to capture Tripoli. Haftar and his allies alleged that Sarraj's GNA's was a pseudo goverenment which had been making way for radical Islamists and extremists, including Muslim Brotherhood to control the nation. Since 2015, Libya had been divided in to two parts, with west Libya being controlled by Sarraj's GNA and east by Haftar's LNA. The Libyan conflict worsened after the intervention of Turkey, which committed to provide all the military assistance to GNA.