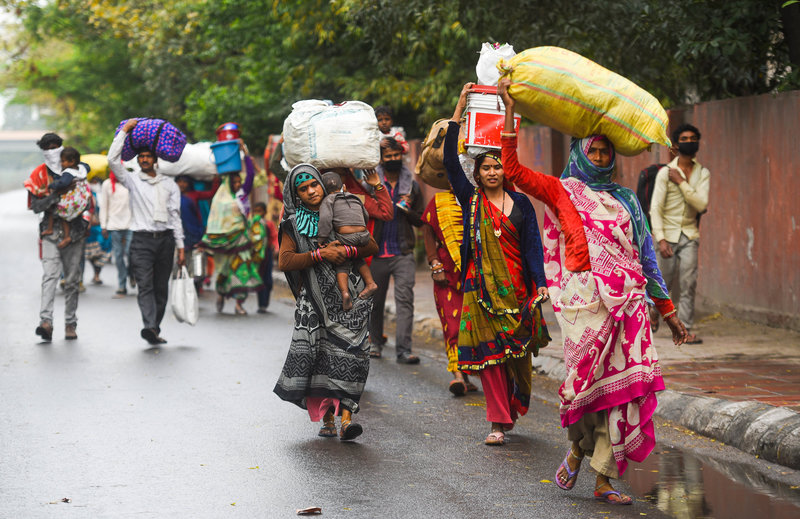 (C)NPR
On 23 March, a nationwide lockdown was announced by Prime Minister Narendra Modi to contain the spread of Covid-19. Due to which many migrant laborers in India were suddenly jobless and stranded.
After the coronavirus lockdown, all the factories, construction sites, and companies got shut. Thousands of distressed daily wagers and laborers in India decided to walk home from urban cities to their villages.
According to the Hindustan Times, Om Prakash, a 38-year-old mason, who worked in Delhi for over ten years, chose to walk 800km to his village in Nadwa, Uttar Pradesh. With no job and less money left, and tension about his old parents, he made up his mind to walk back home.
He treads till Barabanki, which is around 580 km away from Delhi. Later he got a lift from an LPG delivery van and reached halfway till Balampur, and finally, he completed the pending distance of 240 km to his hometown on foot. With many difficulties, he succeeded in reaching home.
A similar story was of Ashok Keshari, 28-year-old, who worked at a hotel in Nagpada, Mumbai. He, too, resolved to walk towards his hometown. He covered a long distance of 1600 km from Mumbai to Varanasi in 14 days.
Due to the lockdown, joblessness, and stress over survival, he decided to head back home on foot. In his journey, many generous people provided him with food and water. However, many were not that fortunate, as there were reports of many who couldn't make it back home and collapsed or died on the way, The Hindustan Times reported.
According to the High Commissioner for Human Rights, Michelle Bachelet, in a statement said, that she was distressed by the plight of the informal workers in India, who had a few hours notice and were unable to pay for rent or food, UN News reported.