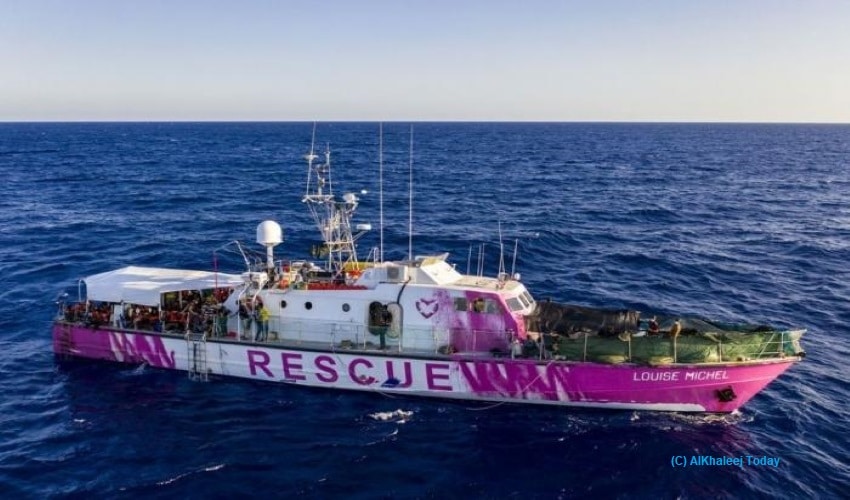 Migrant refugee crisis in the Mediterranean is increasingly becoming a human rights issue.
Migrant refugee crisis in the Mediterranean is increasingly becoming a human rights issue. Standing up to the plight of thousands of migrant refugees stranded in sea and travelling in hope of asylum in various countries came the boat Louise Michel, funded by Britain based street artist Banksy. The rescue boat is close to declaring a "state of emergency" after rescuing over 130 migrants and now have 200 refugees onboard off the Libya coast. The crew says of repeated ignored calls for help by European authorities.
Louise Michel, the rescue boat funded by Banksy that has been named after a French feminist anarchist, started off in secrecy on August 18 from Burriana, the Spanish seaport near Valencia, for the central Mediterranean Sea region to rescue 89 people, which included 14 women and four children on Thursday. After that on Friday, the crew of European activists responded to mayday call by Moonbird – an aircraft that monitors refugee boats that may need help in the central Mediterranean – which spotted a dinghy that wasn't moving and was taking in water. Louise Michel responded in no time to secure the situation. The 130 people were handed over lifejackets. The dinghy is right now stuck in Maltese search and rescue zone. Currently the dinghy is overcrowded, is taking in water, has a dead body and people with burn marks from fuel and injuries due to travelling in water for days together. Moonbird and Alarm phone, that were contacted by the distressed tube boat, alerted the European authorities for rescue. Crew alleges that neither the Maltese nor the Italian authorities responded to the distress call.
The hero crew on the #Bansky funded boat #LouiseMichel need an immediate assistance.
The boat is overcrowded in the middle of the Mediterranean sea and unable to safely move. @guardiacostiera @Armed_Forces_MT you must act nowhttps://t.co/TqErxr3l4m pic.twitter.com/0xxQjgQWqg

— Razan Ibraheem (@RazanIbraheem_) August 29, 2020
The ship is currently safeguarding the 130 passengers in dinghy and has 89 people onboard already. The maximum capacity being 120, the Louise Michel is waiting for rescue from authorities. Lea Reisner, Louise Michel's head of operations said, "The people have sat in a mix of salt water and fuel for days. It is night and European states are not doing their job. They deny responsibility while we are trying to keep everyone alive, we need immediate assistance."
We were shocked when we saw the rubber boat – it was incredibly overcrowded and people onboard were trying to shuffle water out of the boat with their bare hands. We knew this was a grave emergency situation and decided to send out a mayday relay to all authorities and actors in the vicinity. Responsible European authorities failed to react to our distress call and only the Louise Michel responded to this serious distress case.

Neeske Beckmann of Moonbird
Louise Michel that sails under a German flag is painted in bright pink and features artwork of Banksy – a girl in a life vest holding a heart-shaped safety buoy. The condition of refugee migrants in the region is heart-wrenching. In 2020 till now over 500 refugees and migrants are believed to have died in the Mediterranean Sea. Real number though is estimated to be much higher.