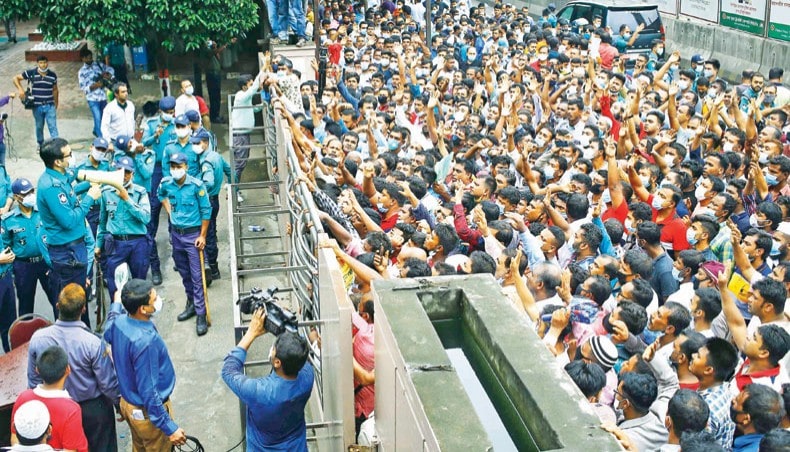 Migrant workers in Bangladesh have taken a sigh of relief as they have been heard and given solutions to their plights.
Migrant workers in Bangladesh have taken a sigh of relief as they have been heard and given solutions to their plights. Talking to the Expatriates' Welfare and Overseas Employment Minister Imran Ahmad, workers expressed their need for their return to be expedited at the earliest.
Hundreds of desperate workers were seen demonstrating for three days consecutively demanding return to their workplaces in the Kingdom of Saudi Arabia (KSA). They also demanded tickets and flights.
A delegation of five workers met the minister and placed their demands including extension of visa and work permit. According to the minister who called a special press conference later, a special note has already been sent to ensure KSA government would cooperate in receiving back workers who have employment with the Kingdom.
Earlier on, Saudi Arabia had not lifted its ban for the travel of residents from Bangladesh and all those other nations where chances of virus infections were high. But off late, the ban has been lifted and workers stranded in Bangladesh were looking at eagerly getting back to the Kingdom to work.
Hundreds of Bangladeshi migrant workers on Tuesday held a demonstration in #Dhaka blocking roads for around two hours in the morning for tickets to #Saudi_Arabia so that they could join their workplaces in the Middle Eastern country before their #visas expired.#Bangladesh pic.twitter.com/4rpRjavF1m

— Basherkella – বাঁশেরকেল্লা (@basherkella) September 23, 2020
Showing its cooperation, the Civil Aviation Authority of Bangladesh (CAAB) has now permitted Saudi Arabian Airlines to operate more flights to take back the migrant workers to their workplaces in the Gulf country.
There is urgency for many to return back as their work visas come closer to the expiration date in September. Remittance payouts from the Middle Eastern nations are handsome and make up for a sizable amount in the Bangladesh's GDP aswell. With the workers returning back to work, they hope to be able to start sending back money home.
The pandemic situation, it is confirmed, has pushed back the remittance returns by 20 percent across the world.  Meanwhile, the Bangladeshi government has also reassured the 5000 odd migrant workers that they will discuss the possibility of visa and work permit extension with the Kingdom. Most of the Middle Eastern countries depend on migrant workforce to meet their various infrastructural and economy sustaining needs.  While the pandemic has slowed work for the world, the need for migrant workers will never dry out, political analysts believe.