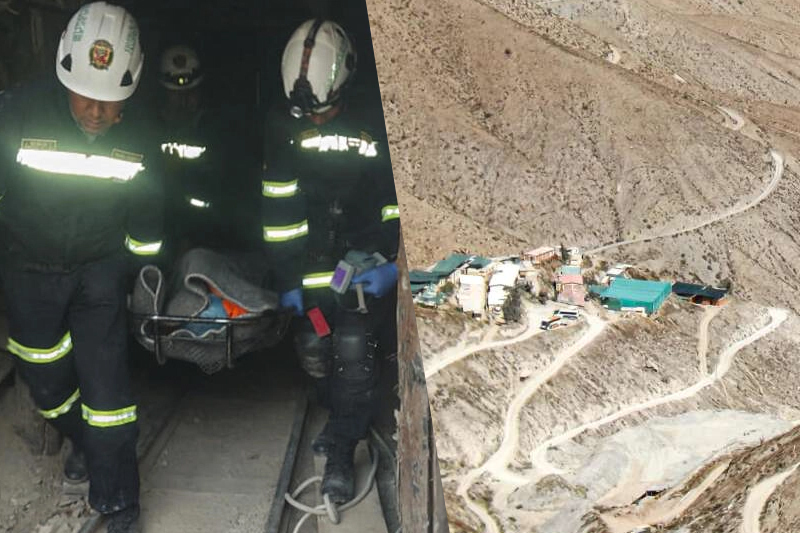 at least 27 workers in peru are lost in a gold mine fire
One of the worst mining tragedies in recent memory for the South American nation is a fire that has claimed at least 27 lives at a gold mine in a remote part of southern Peru, according to authorities on Sunday.
Families in mourning gathered close to the mine to inquire about the whereabouts of their loved ones.

The wife of one of the victims, Marcelina Aguirre Quispe, cried out, "Where are you darling, where are you?"
"We know there was a short circuit, which led to an explosion. According to Francisco Idme Mamani, whose 51-year-old brother Frederico also perished, said, "We are very shocked by everything that happened.

The fire that engulfed a tunnel inside the La Esperanza 1 mine in the region of Arequipa was confirmed to have been started by a short circuit by police and the public prosecutor's office.
According to Giovanni Matos, the public prosecutor, "27 dead were inside the mine."
The blaze began following an explosion at the mine in the isolated Condesuyos province, ten hours drive from Arequipa, the region's capital, local media reported earlier.

Inside the Yanaquihua mine, the explosion set the wooden supports on fire.
According to local media, the victims were 100meterss below ground.

Only after police had gathered information about those who had died was the news of the fire made public on Sunday.

Before removing the bodies of the victims, rescue crews were attempting to secure the mine.

To gain access and retrieve the bodies, we must make the location where the dead are safe, according to Matos.
Keep Reading

There have been no confirmed reports of survivors or estimates of the number of people who were inside the mine when the fire broke out.

According to James Casquino, the mayor of Yanaquihua, most of the miners would have perished from burns and asphyxiation.

Gold Mine Fire in Peru

In Peru, the biggest producer of gold in Latin America, the incident is one of the worst mining accidents in recent memory.

The recovery and transportation of the bodies have been a priority for the interior and defense ministries ever since this tragedy, according to a tweet from the president.
Families went to the local police station to inquire about their relatives.

There are many illegal mines in the area, even thought the mine is run by Minera Yanaquihua.

For 23 years, the company has run mines in Peru.

With a GDP contribution of more than 8%, mining is one of the economic pillars of Peru.
According to the ministry of mining and Energy, 39 people perished in mining-related incidents last year.
Four workers who were trapped when an Arequipa mine collapsed in 2020 perished.
According to official sources, Peru is the world's second-largest producer of silver, copper, and zinc. In addition, it is the biggest producer of zinc, tin, lead, and molybdenum in Latin America.