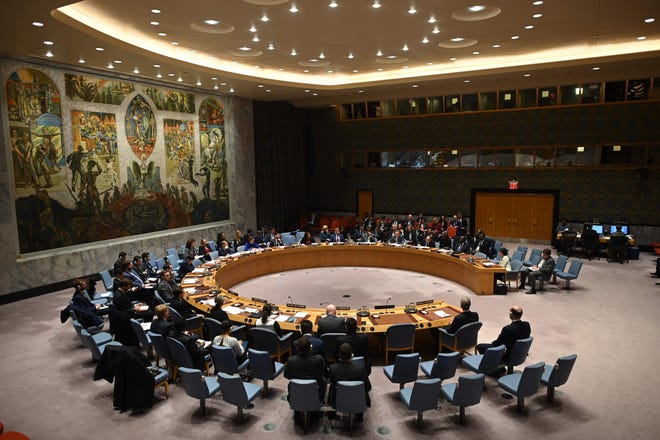 (C)GettyImage
The UN Security Council intends to vote on a draft resolution calling for the establishment of a "humanitarian truce" for 90 days in all armed conflicts around the world to allow the delivery of humanitarian aid to those most in need in light of the outbreak of the Covid-19 pandemic.
The French-Tunisian draft resolution stipulated in its first draft, which was put forward by these countries last week, to stop the fighting for a period of only 30 days, to "a comprehensive and immediate cessation of hostilities in all countries on the agenda of the Security Council" and to strengthen international cooperation in combating the pandemic.
However, the new draft of the draft resolution, which was reformulated on Monday, states that "the Security Council calls on all parties to armed conflict to immediately engage in a humanitarian truce for at least 90 consecutive days, to allow the safe, continuous and unimpeded delivery of humanitarian assistance and the provision of related services" By neutral humanitarian actors. "
The Council did not specify a date for the draft resolution to be put to the vote, because the biggest problem of this text lies in its inclusion of an empty paragraph dealing with the role of the World Health Organization, to which the United States has been highly critical because of its management of the emerging Corona virus crisis.
On March 23rd, Secretary-General of the United Nations Antonio Guterres launched a call for an immediate and global cease-fire aimed at strengthening ways to combat the pandemic, and his day asked the Security Council to support this appeal, especially in conflicts monitored by the Security Council, such as that in Syria Yemen, Afghanistan, Mali, Central African Republic, Libya, Sudan, and Colombia.
If Guterres's appeal seemed to be heard in some parts of the world, other conflicts are still raging, as is the case in Yemen, Libya and South Sudan, or they have flared up more as happened in Colombia, for example, where the National Liberation Army declared the last movement Insurgency in this country, Monday that it will resume its military operations from May 1st
On March 25th, the United Nations announced a "humanitarian plan" to help between 30 and 40 countries among the most vulnerable to the pandemic, and to this end it launched a call for fundraising amounting to two billion dollars, to be secured after half a month, according to the international organization.
According to United Nations estimates, the amount required to support the population most affected by the consequences of the pandemic is $ 90 billion, two thirds of which can be funded by the World Bank and the International Monetary Fund.