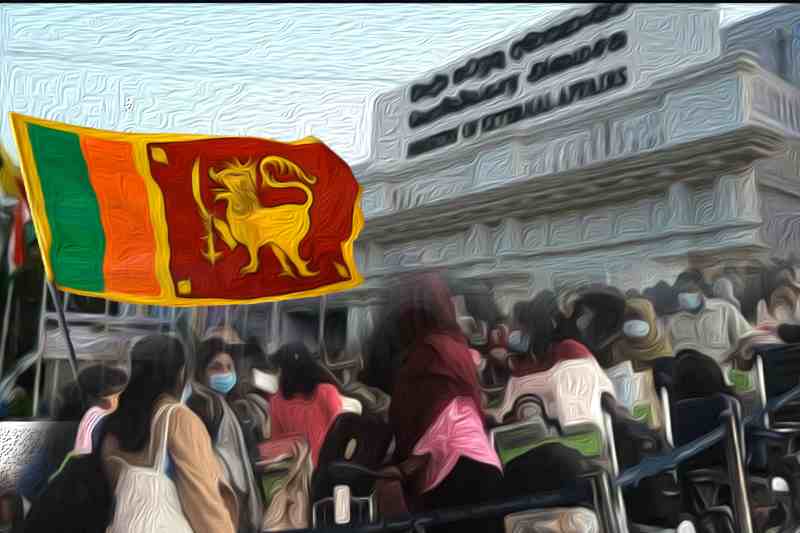 Sri Lankan Embassy
Last updated on February 6th, 2021 at 08:48 am
Sri Lankan Embassy: The President Secretariat and the Foreign Ministry of Sri Lanka with the help of the Sri Lankan Embassy in Oman repatriated 568 stranded workers from Muscat to Colombo amid the coronavirus crisis.
The Embassy of Sri Lanka in Oman had repatriated the first group of stranded Sri Lankan nationals Sri Lankan Airlines flight UL306 from Muskat to Columbo on June 28, 2020.
It included tourists, pregnant ladies, students, medical workers, technicians, female domestic workers, and Sri Lankan doctors and nurses who had completed their contract work and projects in the Sultanate.
Sri Lanka is also confronting the impact of the Covid-19 crisis like other nations, for example, increased unemployment rate affecting almost every sector, from informal workers who make 70 percent of the workforce, to industries and low-end services such as trade. The clothing business, which utilizes a large portion of 1,000,000 workers, has been apparently compelled to cut countless jobs.
A huge segment of Sri Lanka's migrant workers is that 49 percent of the roughly 1,000,000 labor forces are ladies who are working as domestic servants, primarily employed by families in Middle-Eastern nations.
The Government of Oman has helped in waving of fines of laborers so that they are able to leave Oman. The Embassy of Sri Lanka in Muscat furnished them with essential travel records free of few in order to get back. Including workers who lost their jobs, released detainees from prison, and people who were under medical treatment.
Workers were able to return back home via the Sri Lankan airlines in two groups on January 14 and 15, 2021. More than 300 Sri Lankan stranded migrant workers that had overstayed or their visa expired were deported.
The Government of Sri Lanka has organized free PCR tests for all the migrant workers on arrival at BIA and gave all of them free quarantine facilities with food for 14 days at a Government Quarantine Center.
The special envoy of Sri Lanka to the Sultanate, Oman Ameer Ajwad, expressed his sincere thanks to His Highness Sultan Haitham's bin Tarik for helping the Sri Lankan stranded workers to return home.