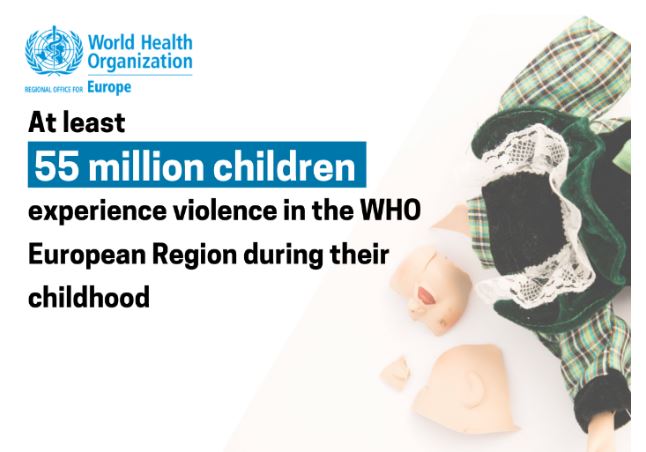 By Victoria Hudson.
According to the World Health Organization (WHO), each year, at least 55 million children experience some form of violence in Europe, including physical, sexual, emotional and psychological violence. "Despite the magnitude of this figure, it is well established that incidents of interpersonal violence are widely under reported". The UN agency says.
Accounting for the under reporting of abuse, it is estimated that of the 204 million children under the age of 18 in Europe, 9.6% experience sexual abuse, 22.9% experience physical abuse and 29.1% experience emotional abuse. Furthermore, 700 children in the Region are murdered every year.
The cost of violence against children adds up. An estimated US$ 581 billion is spent treating those hurt by violence annually. But the financial cost pales in comparison to the toll on individuals' health.
It is clear from studies that children who experience violence are at higher risk for mental illness, drug use, alcohol use and obesity, but also for chronic disease later in life.
"Violence against children is chilling and distressing," said Dr Bente Mikkelsen, WHO Europe's Director of the Division of Noncommunicable Diseases and Promoting Health through the Life-course. "Child trauma has a terrible cost, not only to the children and the adults they become, whose lives it wrecks, but to every country's well-being and economy. With political will, we can all tackle this. Every sector and part of the community can make a difference in making society safer for children. But we need to speed up."
Overall, the political will to combat violence against children is on the rise: 66% of countries in European Region have prohibited corporal punishment in all settings. However, passing laws is only part of the solution.
According to UNICEF, violence against children takes many forms and occurs in all the settings in which children find themselves. Physical, emotional, psychological and sexual violence all occur within the home and in schools, in the neighborhood, in prisons, police stations and other forms of custody and detention, and in residential institutions and other forms of childcare outside the home. The perpetrators are individuals and groups known and unknown to the child, as well as institutions and larger social organizations.
The violence occurs with varying degrees of planning, ranging from spontaneously violent responses to children arising out of the immediate situations in which they are engaged, to highly organized and pre-planned violence. It can impact on the child directly through physical and mental assault or indirectly through the influence of witnessing violence between others, including through the portrayal of violence in the media.
Furthermore, these aspects of violence against children are not mutually exclusive but overlap in many ways, and children frequently experience multiple forms of violence in multiple settings.To see more click Human Rights Latest News