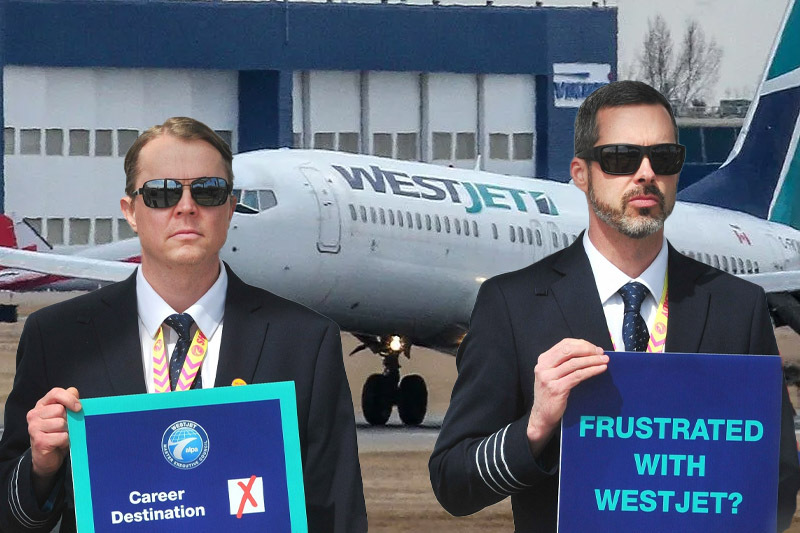 westjet pilots 72 hrs strike, airline announces a lockout
As contract negotiations continue to slog along, WestJet pilots on Monday gave the management of the airline and the federal government a 72-hour strike notice, beginning the final countdown for walkouts.
In a statement, the Air Line Pilots Association (ALPA), which represents about 1,600 flight attendants at WestJet and its subsidiary Swoop, said it was prepared to publish the notice over the weekend but chose to wait so that talks could continue.
The union added that the delay gave both parties time to consider new proposals.
The statement read, "While most non-cost items have seen progress, both sides have been unable to reach a resolution that will be in the best interests of all parties involved."
If a deal is not reached by Friday morning, 3 a.m. ET (1 a.m. MT), the pilots will start a strike.
However, Capt. Bernard Lewall, the union's representative for WestJet, claimed in the statement that the management of the airline "still fails to understand today's labor market conditions" that have prompted pilots to look for better employment opportunities elsewhere.
Keep Reading
Without the improvements in the economy and job security that our pilots demand, WestJet will be forced to park aircraft because it won't have enough pilots to operate them or carry out its growth strategy, according to Lewall.
All WestJet-owned aircraft could be grounded as a result of job action, the union warned, "effectively shutting down operations."
The main concerns of the employees are job security, compensation, and scheduling.
According to the union, WestJet loses a pilot every 18 hours on average to a rival airline.
According to WestJet, its mainline operation has hired three times as many pilots as it has let go this year.
The Calgary-based airline said in a statement this week that although its pilots are among the highest paid in Canada, a contract on par with those recently obtained by some U.S. pilot groups would be financially unworkable and jeopardize the company's future.
The WestJet Group said in a statement Monday night that "this expectation is not reasonable and is impeding the ability of the WestJet Group to reach an agreement in advance of the upcoming long weekend."
The airline issued a lockout notice in response to the WestJet strike notice
WestJet CEO Alexis von Hoensbroech said in a statement: "We sincerely regret the inconvenience and uncertainty this continues to cause for our guests. The decision to issue a lockout notice, in response to the actions taken by the union today, was not made lightly.
To reduce the possibility of leaving our guests, crew members, and aircraft stranded, we have to always ensure the security and total control of our network. At the bargaining table, where we continue to work nonstop to reach a fair settlement as soon as possible to avert labor action, our commitment and priority remain.
The airline said it would start making plans to operate a reduced schedule with fewer Westjet and Swoop flights in the coming days, as well as actively managing changes and cancellations and "providing flexible change and cancel options for those who wish to make alternate arrangements."
The airline stated that in the event of delays or cancellations, "impacted guests will be refunded or re-accommodated, as applicable."
Changes to existing travel arrangements will be directly communicated via email to customers who made direct bookings with WestJet or Swoop.
We ask that you get in touch with them directly if you made your reservation online or through a travel agent.