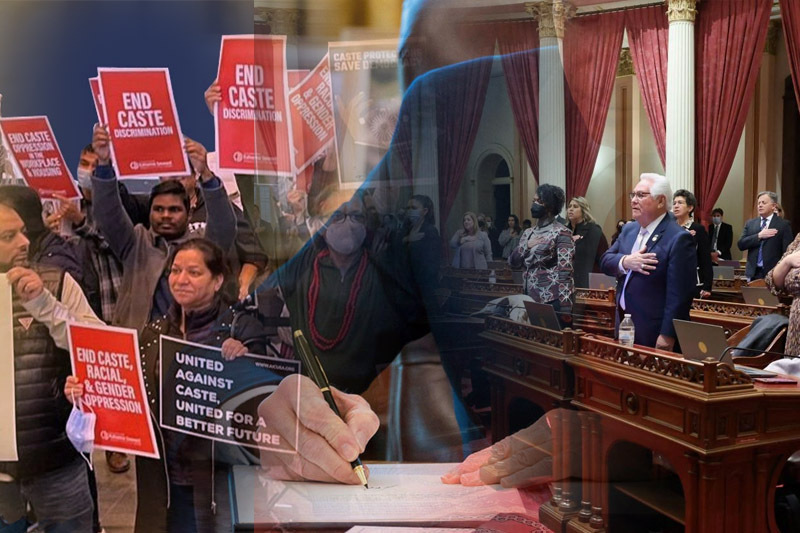 us california senate passes bill to ban caste discrimination
California: On Thursday, the California State Senate voted to ban discrimination based on caste. People would have legal options to deal with bias and discrimination based on caste in housing, jobs, schools, and other places.
By a vote of 34/1, the law was passed. After the SB 403 Bill, California was the first US state to include caste as a protected category in its anti-discrimination laws.
Before the bill is sent to the governor to sign into law, its supporters, who are led by the nonprofit Equality Lab, said a similar bill is being introduced in the House of Representatives.
SB 403, which was proposed by California Senator Aisha Wahab, changes the Unruh Civil Rights Act. This law says that everyone in the state of California has the right to full and equal accommodations, advantages, facilities, privileges, or services in all businesses. It adds "caste" to the list of protected groups.
SB 403 protects people from prejudice and bias based on caste
SB 403 protects people who have been hurt systemically because of bias and bias against caste. It also makes sure that people who allow or take part in caste discrimination and caste-based violence can't get out of responsibility or legal consequences.
New bill comes just a few weeks after SB403 was passed unanimously by the California Senate Judiciary Committee in the month of April. It also comes after the Seattle City Council passed a historic law this year banning discrimination based on caste. The California Democratic Party, the California State University system, the Alphabet Workers Union, tech giants like Apple and Cisco, and others have also passed resolutions making caste a protected category.
Keep Reading
The California Senate voted to ban discrimination based on caste
People would have legal options to deal with bias and discrimination based on caste in housing, jobs, schools, and other places.
Seattle Council member Kshama Sawant was a big reason why Seattle was the first city to pass a law against caste discrimination. She was happy that the California State Senate passed SB 403.
"After our historic win in Seattle in February, the California Senate voted to outlaw caste discrimination."-Seattle Council member Kshama Sawant said.
"The Assembly will now take up the bill. Anti-caste activists, working people, union members, and my socialist Council office created a movement to win in Seattle. This movement gained momentum across the country and even around the world. "Support to everyone struggling against oppression under capitalism!" she said.
"On behalf of all Dalit Californians and caste-oppressed people around the world, we are thrilled that SB403 has passed out of the California Senate. Thenmozhi Soundararajan, executive director of Equality Labs and author of The Trauma of Caste, said, "This win is rooted in years of Dalit feminist organizing, and we are just getting started on making the state safe for our entire caste-oppressed community."
"We know that we have a long way to go with this bill, but with this vote, we have made history, and we are proud to work with the California Assembly on this historic bill! She said, "Equality Labs wants to thank all the partners in Californians for Caste Equity who have worked so hard to get us this far."
Tanuja Gupta, a law student, activist, and former Google engineering program manager, said that ending caste discrimination will soon be a legal requirement for companies like Google in California.
A historical moment for the Dalit community-
Foundation For Human Horizon's president, Deelip Mhaske, praised State Senator Aisha Wahab for putting the bill forward in the California Senate. "This is a win for Dr. B.R. Ambedkar's equal rights-based Indian Constitution."
Mohammad Jawad, the head of the Indian American Muslim Council, praised the California Senate for passing SB 403.
"This is a big deal for the Dalit people, who have been fighting against discrimination based on caste for many years. When this bill is signed into law, it sends a clear message that discrimination based on caste has no place in California. "The bill will give Dalits and other people who face discrimination because of their caste the protection they need," he said.
"We want the California Assembly to pass this bill as soon as possible, and we want Governor Newsom to sign it into law. We also want other states and the US Congress to follow California's example and recognize caste discrimination as a form of discrimination and take steps to stop it. Rasheed Ahmed, the executive director of IAMC, said, "Discrimination based on caste is a violation of human rights and must be stopped everywhere it happens."
End Note-
The California Senate recently took a historic step by passing legislation outlawing caste discrimination. This bill, the first of its kind in the country, is regarded as a crucial step in the elimination of caste-based discrimination in California.
The bill forbids discrimination of any kind based on caste. Additionally, it offers protection to those who have experienced abuse or violence based on their caste. The approval of this bill represents a significant victory in the struggle against social status-based prejudice and injustice.
This represents a significant advance for human rights in California and creates a model for other states to follow. It is hoped that this law will contribute to the development of more welcoming workplaces and neighbourhoods where individuals from all social backgrounds can feel safe and respected.