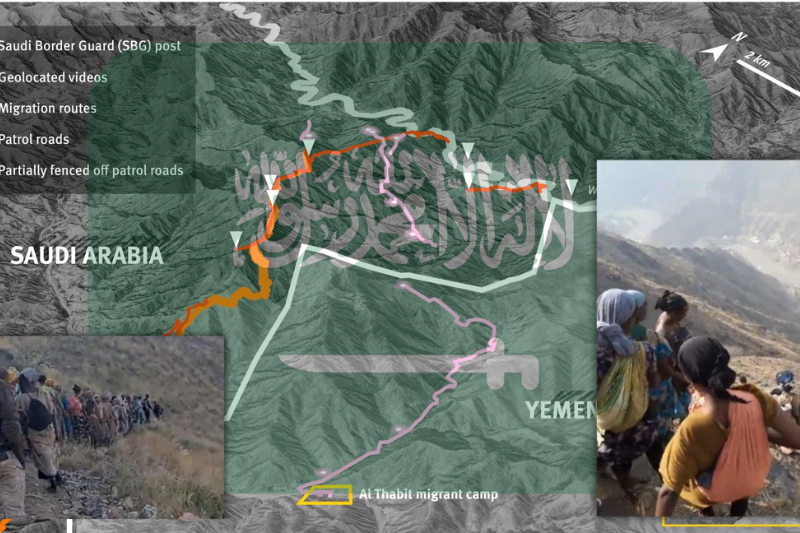 they fired on us like rain saudi border guards accused of killing migrants
Last updated on August 22nd, 2023 at 11:13 am
Saudi Arabia's border guards have been accused of killing at least hundreds of Ethiopian migrants and asylum seekers using explosive weapons, in a recent report by Human Rights Watch.
Human Rights Watch conducted a research on mass killings of migrants along the Saudi border. Human Rights Watch took interviews of dozens of Ethiopians who tried to cross into Saudi Arabia from Yemen. They revealed that Saudi border guards used small arms and explosive weapons to target them along Yemen's northern border with the Kingdom of Saudi Arabia.
Many Ethiopians narrated the horrific details about the incident. Munira, a 20-year-old-survivor, told the HRW that she suffered facial injuries when border guards shot at her. She said, "There were 20 people in our group and only 10 survived. The weapon looked like a rocket launcher, it had six 'mouths' and six holes. They fired on us like rain."
Keep Reading
HRW interviewed 42 Ethiopians. Subsequently, the HRW researchers prepared a report titled "They Fired On Us Like Rain." While preparing the report, the researchers also analyzed videos and photographs posted on social media between 12 May 2021 and 18 July 2023.
HRW said in a report, "Saudi border guards have used explosive weapons and shot people at close range, including women and children."
Nadia Hardman, a researcher in the Refugee and Migrants Rights Division of Human Rights Watch, reportedly said, "I have never come across something of this nature, the use of explosive weapons against women and children."
Reportedly, the Saudi border guards also fired on women and children. HRW said in the report, "Such killings would be crimes against humanity."
An interviewee told the HRW that many people died along the border. The interviewees revealed that only 281 people had survived out of 1,630 migrants.
HRW urged the government of Saudi Arabia to speak up on this matter.