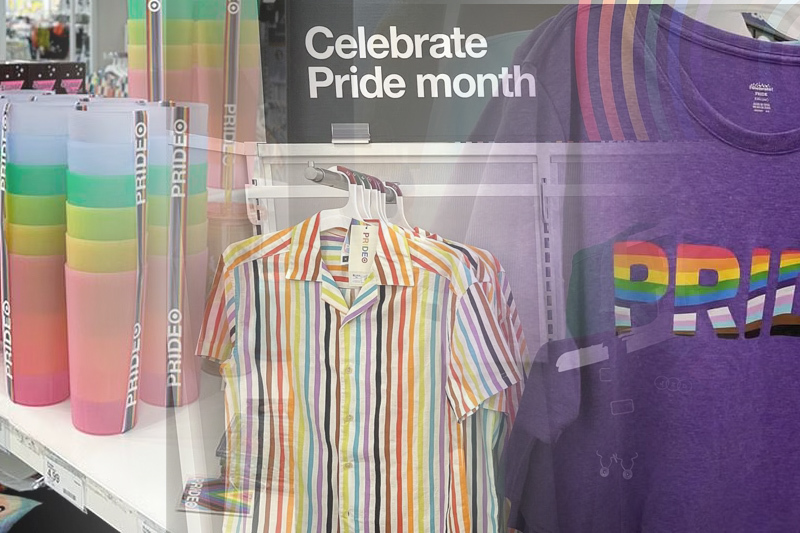 pride is becoming minefield for big business, but many people still believe that 'human rights will triumph in end'
Even though the month-long Pride celebration has become a minefield for some big companies, like Target and the parent company of Bud Light, many big companies still support Pride events in June.
Target and Bud Light have recently been criticized for trying to appeal to the LGBTQ+ community, and when they tried to change their minds, they were criticized even more. #Pride
But Target and Bud Light haven't pulled out of this year's Pride events, even though they've been getting bad press. Target gives $175,000 to NYC Pride, which makes them a platinum sponsor. And Anheuser-Busch, the company that owns Bud Light, helps pay for Pride events in Chicago, San Francisco, Charlotte, and other places.
Many other big companies, like PepsiCo, Starbucks, General Motors, and the company that owns Jeep, Stellantis, are also sticking to their sponsorships. These companies said they have been sponsoring Pride events for decades and won't hesitate to do so again this year.
Jeff Gennette, CEO of Macy's, another major Pride sponsor, told The Associated Press that even though the company has gotten some negative feedback about its Pride merchandise, it is "cautious about how we put out this product that we select and how we position it on our website and in stores" and has no plans to take any of it away.
"We stick to our values, and we're a very welcoming group. "We think most Americans are, too," Gennette said.
InterPride, which represents more than 375 Pride groups around the world, said that 40% of them have said their sponsorship dollars are up 20% or more this year.
Most likely, companies can't ignore the buying power of LGBTQ+ people because it's too big. LGBT Capital, an investment company based in the U.K., says that the U.S. has more than 17 million LGBTQ+ people with spending power of more than $1 trillion.
Keep Reading
Allen Adamson, co-founder and managing partner of marketing firm Metaforce, said, "For every one customer who knocks over the display, there are 10 who love it, and they will vote with their feet."
The AP asked Anheuser-Busch about its Pride sponsorships, but the company didn't answer. Target said that it is "moving forward with our continuing commitment to the LGBTQIA+ community."
Even though businesses are helping, there are clouds over the rainbow- #Pride
RILA Global Consulting, which tracks more than 100 million websites and social media pages every day, says that most of the negative posts about Pride this year are attacks on companies for being "woke" and accusing them of sexualizing or grooming children.
That's a big change from last year when most negative social media posts were about brands being "inauthentic" and not supporting the LGBTQ community, even as they grew their offerings.
RILA said that there were less than 400 posts in May and June of 2022 that called for Pride-related boycotts. This year, there were more than 15,000 just in May.
The backlash comes at a time when the rights of transgender people are being fiercely and quickly debated. At least 17 states have laws that limit or ban gender-affirming care for minors. Most of these laws have been passed since the beginning of this year.
That has made a lot of businesses nervous.
"A sponsor told me last night that their CEO doesn't want to get involved in politics," said Fernando Lopez, the head of San Diego Pride. "At best, it's disheartening that they're even talking about that."
Target has been marketing to LGBTQ+ people for a long time. But it recently found itself in the middle of a controversy when angry customers tipped over Pride displays and threatened staff in some stores. Some items were taken off the shelves, which disappointed LGBTQ+ supporters.
Dylan Mulvaney, a transgender influencer, said on social media six weeks before that Bud Light had sent her a commemorative can with her picture on it. Right away, people like Matt Walsh, who has 1.9 million Twitter followers, and other conservative commentators called for a boycott.
In the past few days, Kohl's, Lego, and Southwest Airlines have also come under fire for their marketing that is friendly to LGBTQ people.
Real things have happened because of the backlash. According to Bump Williams Consulting, Bud Light's U.S. sales dropped 23% in the month ending May 13. Since mid-May, the market value of Target's shares has dropped by 20%, or $15 billion. This is partly because investors are worried about how inflation will affect shoppers.
Lopez, who works at San Diego Pride, worries that some companies will skip Pride events because they are afraid of being boycotted.
Lopez said, "Companies may not be against LGBTQ people, but they don't want to put their employees in a place that could be dangerous."
Suzanne Ford, the executive director of San Francisco Pride, said that she knows companies have to make hard decisions, but they also know that the LGBTQ+ community is watching very closely this year.
Ford said, "In the end, human rights will win." "And we're going to remember: Did you run away and forget about us, or did you step up and say, 'This is the right thing to do, even if some people don't like it?'"
Some Pride groups had already stopped working with Bud Light because they didn't think the company did enough to help the LGBTQ+ community outside of the street parties in June.
When Miami Beach Pride's multi-year contract with Anheuser-Busch ended in 2021, the group signed a new multi-year deal with Molson Coors. Robert Legere, who is in charge of sponsorships for Miami Beach Pride, said that the seltzer brand Vizzy from Molson Coors gave $1 million to the LGBTQ+ group Human Rights Campaign.
"We don't just say, "Sure, we'll take your money," out of the blue. Legere said, "We want to make sure the companies can see why they want to join."
Others, like San Francisco Pride, are sticking with Bud Light, but they are getting ready for the backlash from people who think the brand should have done more to support Mulvaney.
Ford, the executive director, said that Anheuser-Busch has been a supporter for a long time and that this year, the company gave more money to San Francisco Pride. Ford said that the group depends on its sponsors to keep its $3 million, two-day festival free and that its costs for labor and security are going through the roof.
"There is tension, and we'll keep an eye on it. "But where I live, they've been a great help," she said.
The director of diversity, inclusion, and outreach for Pride St. Louis, Jordan Braxton, said that Bud Light will pay for the main stage and provide beer for the VIP tent in St. Louis, where the company is based.
"Times can be hard, but they stand by us and we stand by them," said Braxton. "They have helped us for a long time. We're not to blame that you just woke up and figured it out."