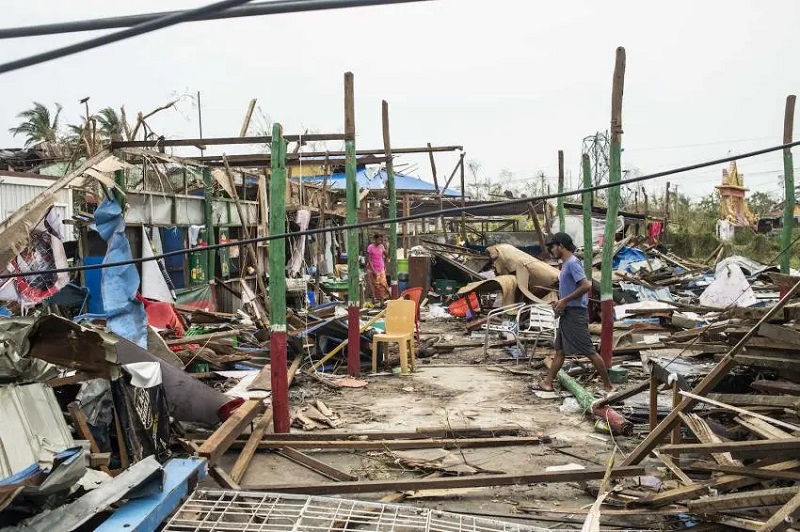 myanmar junta's obstruction of humanitarian aid turns cyclone mocha into man made catastrophe
In the month following Cyclone Mocha, the Myanmar junta has obstructed humanitarian help more and more, endangering millions of people and putting thousands of lives in danger. All facets of the cyclone response have been hampered by the junta's deliberate intervention, turning a natural disaster into a man-made calamity. Governments must push the junta to remove all obstacles to assistance delivery while simultaneously holding them liable for continuous violations of human rights.
On May 14, 2023, Cyclone Mocha, one of the most powerful storms to ever hit the area, made landfall with deadly winds of up to 250 kph. 7.9 million people in five states and areas of Myanmar—Rakhine, Chin, Sagaing, Magway, and Kachin—were impacted by the cyclone. According to the United Nations, 1.6 million people urgently needed relief, and thousands of buildings had been damaged in addition to hundreds of deaths. Additionally, communication problems made it difficult to conduct outreach efforts and needs analyses, furthering the isolation of impacted communities.
Interviews conducted by Human Rights Watch with charity workers and victims revealed the junta's deliberate attempts to obstruct relief efforts. The Junta authorities put unnecessary and onerous restrictions on life-saving relief, delayed the release of vital goods from customs and warehouses, and refused to authorise travel and visas for humanitarian personnel. It was believed that the junta's actions were politically motivated in order to strengthen and legitimise its grip over the affected areas.
The impacted people has suffered greatly as a result of the junta's blockade. Due to the junta's access limitations, aid workers have had difficulty conducting needs assessments, distributing relief materials, and offering emergency medical care. Local activists, members of the impacted communities, and humanitarian workers have expressed their distress and emphasised the critical need for clean water, food, shelter, and medical care. There are growing worries that additional rain would make the situation worse as the monsoon season approaches.
Keep Reading
The UN Security Council resolution and the ASEAN five-point consensus also ask for unhindered humanitarian access, yet the junta has continued to obstruct relief attempts. Only 15% of the $887 million needed for the year for the global humanitarian response has been received, with the response to the hurricane alone needing $333 million. To avoid the junta and make sure that help is delivered effectively, donors should raise their budget and look into alternate avenues, such regional civil society organisations.
The junta has committed several human rights violations since the military takeover in February 2021 and has purposefully impeded humanitarian delivery as a sort of collective punishment. This tactic fits with the junta's well-known "four cuts" method of isolating and terrorising residents in order to keep control. The right to life, health, and shelter are among the international human rights laws that are broken by the junta's acts. The Security Council should think about imposing sanctions on junta leaders and military-owned companies, reporting the matter to the International Criminal Court, and establishing a global arms embargo.
Increased casualties and destruction were caused by the authorities' failure to adequately warn and support vulnerable communities, such as the Rohingya. Individuals from the Rohingya community complained about poor communication of the storm's severity as well as a lack of assistance in seeking shelter or transportation. Additionally, regions already troubled by military assaults, relocation, limitations on mobility, and internet outages had new difficulties during and after the cyclone.
A natural disaster has become a man-made calamity as a result of the Myanmar junta's purposeful obstruction of humanitarian aid attempts in the wake of Cyclone Mocha. Millions of lives have been put in jeopardy as a result of the junta's actions, which have also made it difficult for communities in need to get vital aid on time. To force the junta to eliminate the restrictions and to hold them accountable for their violations of human rights, urgent international involvement is required.