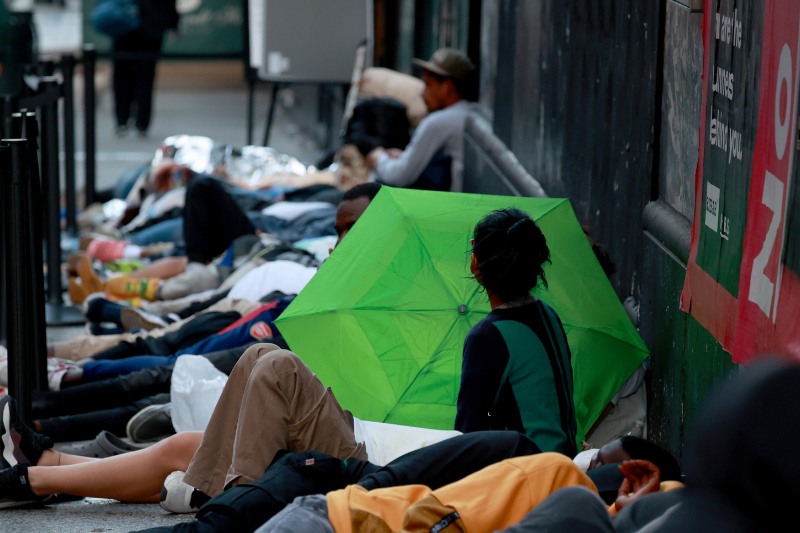 migrants sleep outside roosevelt hotel as new york city fails to provide shelter
Dozens of migrants in need of shelter have lately been sleeping on the streets of New York while waiting for their asylum applications to be processed, amid record-breaking summer temperatures. It comes as the city's largest shelter has reached full capacity.
Desperate for a place to sleep, a number of asylum seekers have lined up outside the 1,000-room Roosevelt Hotel in midtown Manhattan, which has been turned into a migrant reception centre following closure lasting three years given the COVID-19 pandemic.
New York Bound By Law To Shelter Those Without Homes
The unprecedented influx of migrants has stretched services to their breaking point. Mayor Eric Adams, a Democrat, earlier said the city had no more space, something he reiterated on Monday as well. He has blamed the federal and state governments for not providing enough assistance.
Keep Reading
New York state is bound by law to offer free housing to anyone who requests it. While the city has long been a sanctuary for migrants, the mayor has gradually been trying to limit the number of new arrivals. His administration now prioritises families with young children.
Over 93,000 asylum seekers have arrived in New York since April last year, according to authorities. The influx has come as Republican-led states transport migrants to Democrat-run areas to protest against President Joe Biden's immigration policies.
Federal Government Urged To Expedite Work Authorization
Last month, Adams said authorities would hand out flyers at the border to inform asylum seekers there was "no guarantee" they would receive shelter in New York and that they should "please consider" another city.
The mayor has repeatedly called on the federal government to provide multiple forms of support for migrants, including increased funding to manage the crisis, expedited work authorisation and meaningful immigration reform.