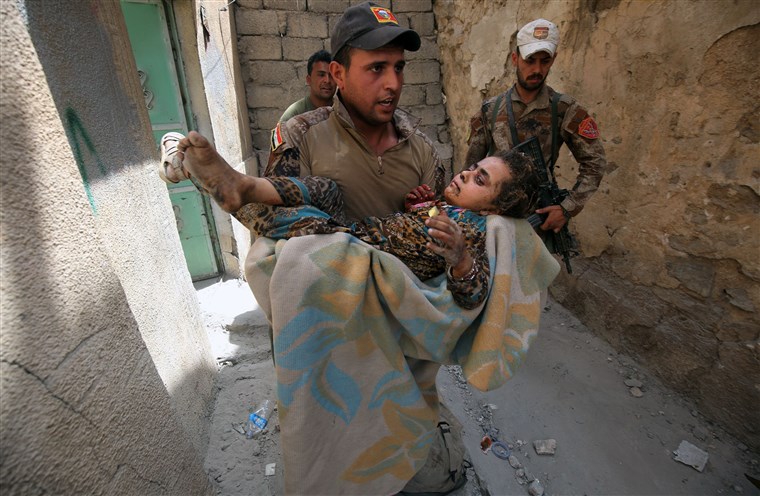 (C)NBC News
Since the second universal periodic review of Iraq in 2014, confrontations with the Islamic State in Iraq and the Levant (ISIS) have intensified. The conflict has been marked by massive violations of international humanitarian and human rights law committed by all parties to the conflict, including indiscriminate and disproportionate targeting of civilians, extrajudicial killings, enforced disappearance, and arbitrary detention. Iraq remains at the forefront of countries globally in terms of the number of enforced disappearances.
Authorities systematically place suspects in terrorism-related cases outside the law protection, and detain them in secret detention facilities for months if not years in isolation from the outside world and in solitary confinement, creating an enabling environment for torture.
During the period between 2014 and 2017, the Iraqi forces and the PMF militia concealed hundreds of Sunni Muslims or believed to be so, especially those who were in areas that were under the control of ISIS.
Iraq lacks a legal framework that can contribute to stopping the widespread and systematic practice of torture and enforced disappearance. In this context, Malta recommended that "Iraq continue to draft legislation aimed at preventing torture and curbing enforced disappearances, with a view to aligning them with international obligations." Two bills are currently pending before the Iraqi parliament, but they do not meet established international standards. Northern Macedonia raised concerns about the appropriateness of existing anti-terrorism legislation, and recommended that Iraq address "the scope of the definition of terrorism and ensure that any existing or new anti-terrorism legislation is in full compliance with the International Covenant on Civil and Political Rights and that measures taken to combat terrorism are fully compatible with the Covenant."