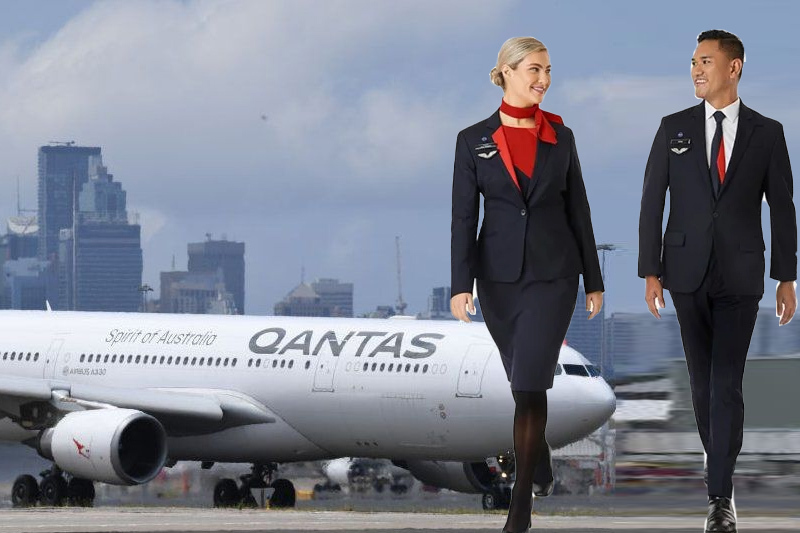 gender policy change at qantas, for women & men
The airline plans to implement the change alongside others.
The national airline of Australia, Qantas (QF), is the most recent carrier to decide that it is time to relax the requirements for gender-based uniforms. Given the last significant changes to QF's uniform policy back in 2013, an Australian Trade Union pushed the airline to "move its uniform policy into the 21st century" last year.
Virgin Atlantic, a UK-based airline, only made a comparable announcement last year, allowing employees to "be themselves."
'Capsules,' a classification system that specifies which uniform pieces are acceptable to be worn together and with what level of grooming requirements, will replace QF's male and female uniforms in place of the company's previous male and female attire.
Long hair, flat shoes, and makeup in Gender-Based Policy, Qantas
Males will be permitted to wear makeup, have long hair (if in a poly-tail or bun), and other significant changes as a result of the shake-up. Women can choose a more comfortable flat shoe instead of wearing heels. Both sexes will be permitted to wear large watches and other jewellery in addition to these modifications. In a statement, Qantas said:
We're proud of our diversity and regularly updating our style guidelines. As fashion changes, so do our guidelines. These modifications will improve the comfort and usefulness of wearing our uniform for all of our people, including those with a variety of body types and those from various cultural backgrounds.
The sector applauded the airline's decision and called it a "big win" because they thought the adjustments were long overdue. The airline has nevertheless reminded its staff that some rules will still be in effect. Tattoos must be covered, and if wearing a skirt, stockings or tights are required. The airline emphasises that there aren't currently any plans to make significant changes to the uniform itself.
Keep Reading
"Our recognisable uniforms are beloved all over the world, and they won't change. Today, our employees are free to wear makeup or not; flat shoes and boots are in; and strict watch size regulations are out.
Not the first and not the last in an airline, either!
In recent years, airlines have learned to adapt and embrace gender diversity. As Virgin Atlantic (VS) took action last year to allow its crew to be more accepting of non-binary identities, promote self-expression, and choose a flexible approach to gender-neutral uniforms so that people could wear whatever they felt most comfortable in.
In 2019, Air New Zealand (NZ) made a modest but comparable change by allowing tattoos to be visible. For the Mori people, this was particularly significant because tattoos can represent ancestry, heritage, and respect within tribes.
Airlines worldwide have different standards for uniforms, such as the lipstick "shade". However, Australian ultra-low-cost airline Bonza (AB) has made an effort to revolutionize travel in the country with affordable rates between regional cities and was the country's first airline to offer a uniform policy that was completely gender-neutral. There are no specific grooming requirements for the carrier, and tattoos may still be visible. With the airline choosing white trainers, heels are also a thing of the past.