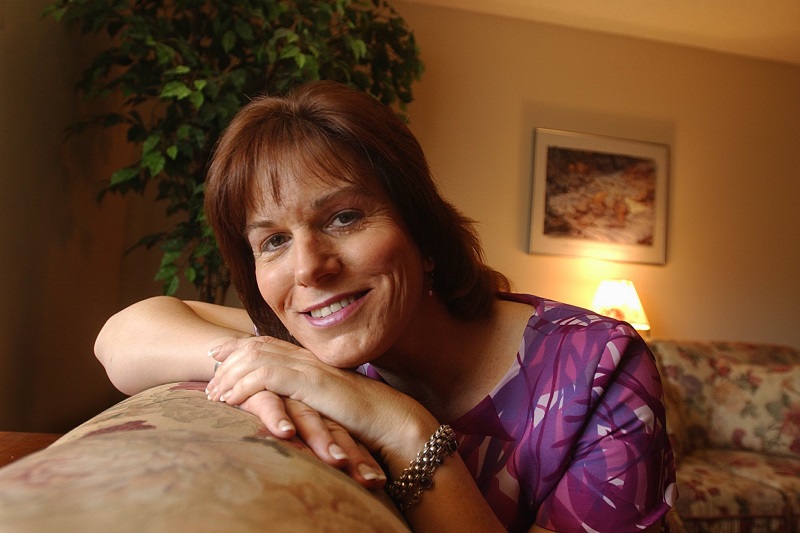 sacramento bee image archive
Dana Rivers, a pioneering transgender activist and former high school teacher, brutally murdered a married lesbian couple and their adopted son at their Oakland, California, home just after midnight on Nov. 11, 2016.
Seven years later, Rivers was sentenced to life in prison without parole and sent to a California state women's prison, igniting a new transgender prisoner debate and angering activists.
Rivers, who had been in a county jail until the sentencing, was sent to the Central California Women's Facility in Chowchilla after a 2021 California law allowed prisoners to request their gender identity determine their prison.
Activists told The Post that Rivers' crime was a "hate crime against women," making an all-women's prison dangerous.
Rivers stabbed 56-year-old Charlotte Reed 40 times.
Rivers shot her 57-year-old wife Patricia Wright in the back and left breast, stabbed her in the neck and shoulder, and killed their 19-year-old adopted African son Benny.
According to court documents, police found Rivers, then 61, holding a can of gasoline after a neighbour called the police.
Police found knives and ammo in her pockets.
Rivers was Reed's "enforcer" in the Deviants, an all-female motorbike club.
Her legal team argued she was legally insane to avoid trial, but an Alameda County jury found her guilty in November and sentenced her last week.
Keep Reading
Rivers, a pioneering transgender woman, spoke to ABC News' 20/20 about her transition in 1999.
Kara Dansky, an activist, called the killings "hate crimes" and said the jury should have known Rivers was male. Dansky, who attended part of Rivers' trial, updated her website and called Rivers "he" when speaking to The Post.
When women kill, they don't usually do it so brutally," activist Kara Dansky told The Post. This was vile and his hatred of her was obvious. My understanding of the case is that he killed her because he couldn't be her and shouldn't be in prison with other women.
State Sen. Scott Wiener's SB132, the "Transgender Respect, Agency, and Dignity Act," allows dangerous trans women to enter female-only prisons, according to activists.
"I threw up when I heard that law," said Women II Women founder Amie Ichikawa, 41. "It gives privileges no other state prisoners get."
Ichikawa, who served five years at Chowchilla for a botched drug deal, told The Post that Rivers, who reportedly had gender reassignment surgery, shouldn't go to a men's prison either. She believes Rivers committed a "hate crime."
She added that Rivers should be housed more carefully at Chowchilla because there are no trans prisons.
Ichikawa claims trans inmates frighten biological female inmates. She said trans women's processing causes anxiety. If they get mad post-op, they go back to angry man mode.
Ichikawa claims that the Wiener bill lets trans women inmates choose their "bunkies" and cells in women's prisons.
"I got my ass whupped by my bunkie for three months but when I went to a housing officer to ask for a transfer to a different unit she just looked at me and said, what kind of Asian are you—Chinese, Japanese, or on your knees?" Ichikawa said.
I'm heartbroken. However, as a trans prisoner, I could choose where and with whom to live.
National activists oppose imprisoning transgender women.
#GetMenOut protesters read letters from four biologically female inmates at the Edna Mahan Correctional Facility, where a transgender inmate impregnated two women last year, at the state Capitol in Trenton in April.
Melissa Adams, Rivers' attorney, called Ichikawa and other activists' criticism of Rivers' Chowchilla incarceration "disgusting."
"I'm shocked we're even having this discussion in 2023," Adams told The Post Friday. I think they're hateful. For the record, Dana will not impregnate women in prison.
Adams said she doesn't think anyone will know what happened or why the night of the Oakland triple homicide. Rivers pleaded not guilty and filed an appeal, but his defense was weak.
The Mercury-News reported earlier this month that Adams filed a 36-page motion arguing that prosecutors focused too much on the biker gang and not enough on alleged strife between Reed and Wright. Adams unsuccessfully argued that Rivers was legally insane when she murdered.
Rivers' triple homicide conviction shocked an already dramatic past.
In 1999, suburban Sacramento teacher David Warfield began hormone treatments and surgeries.
After a few parents complained, school district officials placed her on administrative leave and fired her after she told them her plans.
She sued and received a $150,000 settlement to cover her $50,000 2000 sex reassignment surgery.
Rivers, a transgender activist, helped Camp Trans shut down MichFest, a lesbian music festival in Michigan, in 2015.
When she joined the Deviants, an all-female offshoot of the Hells Angels biker gang, and became an "enforcer" with the nickname "Edge" and many tattoos, her life took a darker turn.
Prosecutors told the jury that Rivers was proud of her role as the gang heavy and had a tattoo identifying her as a "1 percenter"—a reference to the small number of criminal motorcycle clubs.
They said she knew Reed from his brief Deviants membership and that her motive for killing Reed, though unclear, may have been anger over Reed leaving the club.
Rivers said she was anguished as a man despite being "macho and a daredevil" all her life.
"Depression was my life," she said. I was suicidal. My life was a wreck.