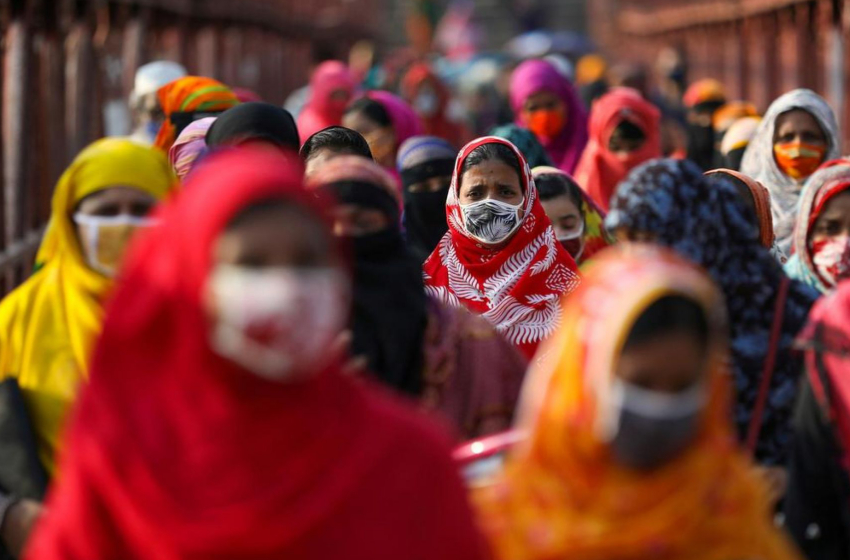 The life of hundreds of garment factory workers in Bangladesh has changed drastically since the outbreak of COVID
Last updated on June 1st, 2020 at 12:00 pm
The life of hundreds of garment factory workers in Bangladesh has changed drastically since the outbreak of COVID19. The crisis poses a health risk to them. It is also a severe blow to their income as units had to shut in March and April, and many buyers canceled orders. 
Despite the corona lockdown in the country, these factories resumed operations from 26 April. At least 900 manufacturing units have restarted while the nation remains in lockdown till 31 May.
While facilities that come under the Bangladesh Garments Manufacturing and Export Association (BGMEA) are following all safety regulations like social distancing and wearing masks, but following such guidelines may not be the same for other units that do not come under the purview of BGMEA.
More than half of these garment manufacturing units do not come under BGMEA.
These garment factories are the backbone of the economy; about 80 percent of exports of Bangladesh is dependent on them. Following the COVID outbreak, orders from eminent buyers from the UK and the US, worth billions of dollars, have been canceled.
The manufacturers had to restart operations to prevent further losses, when the cases were spiraling in the country, posing a risk to the lives of the thousands of workers.
According to reports, some of these workers have reported positive for COVID. Positive cases have been reported from Narayanganj, Savar, Gazipur, Ashulia, Dhaka, and other areas. Most of these workers, mostly women, have limited access to proper healthcare and live in densely populated areas.
Though the government has announced a stimulus, workers have complained that they have not received the benefits. Moreover, each worker has to support at least five dependents in their family.    
Experts believe that reopening of factories can pose a risk to the health of the workers, but the reopening is critical for their survival.
Hundreds of garment workers took to the streets of Dhaka ahead of Eid to demand salary. Some workers said they had not received wages for the past three months. 
Meanwhile, the BGMEA has decided to blacklist Western fashion brands to take advantage of the unprecedented crisis and "exploit" the suppliers. Edinburgh Woollen Mill has been demanding massive discounts from suppliers, which defies local laws, ethical principles of sourcing, and international norms.
Since the first half of April, about $3 billion-worth of orders were canceled or suspended. Garment exports have dropped by 84%.
Bangladesh is the second-largest supplier of clothes for western brands, next only to China. There are about 4,000 factories, mainly in and around Dhaka, employing nearly 4 million workers.