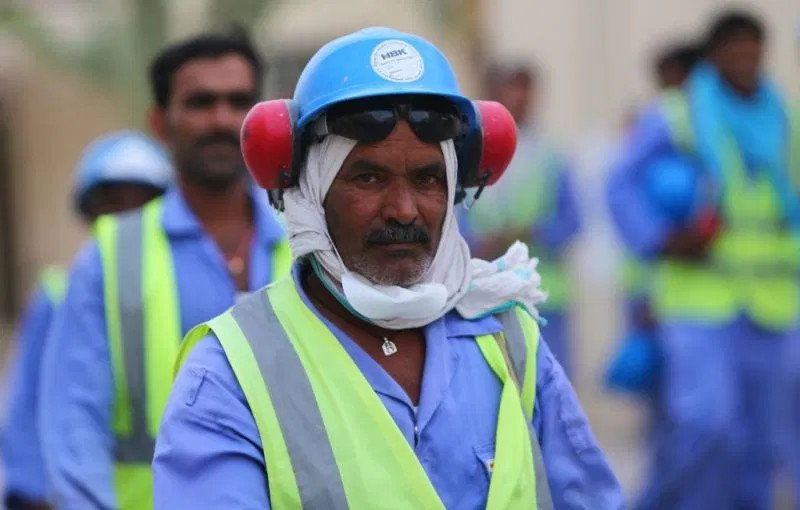 (C)Foreign Policy
Qatar has reported the maximum number coronavirus positive cases among the six Gulf nations, (i.e. over 2000). Yet the nation seems less shaken by the health concerns and more worried about finishing its construction projects (worth an estimated $200 billion) ahead of 2022 football World Cup. The tiny Gulf country's industrial zone, where most of the migrant workers and labourers live in overcrowded labour camps has emerged as a hotspot for coronavirus. It has put thousands of lives at risk with cramped housing facility, common toilets and kitchens. The lack of hygiene in their surrounding and nutrition in their food has made these migrants more vulnerable to the deadly disease, Covid-19. The country, where expat make about 90 percent of the population (ie. over 2 million people), cares least about their health.
Most of these migrant workers, come from the villages in the South Asian countries including India, Nepal, Sri Lanka, Philippines etc. They have given not only their sweat and blood but even their life as thousands of labourers died over the last 6 to 9 years, due to over exposure to heat, and lack of protective gear and proper medical facilities. They arrived in Qatar in the hope of getting better job opportunities. Lately several reports have surfaced which suggested that the gamble that these innocent workers took to bring their families out of poverty has landed them in huge debts, as migrated to Qatar after paying thousands of dollars to secure a job, and did not receive their pay for months altogether.
Qatar, has a long history of labour rights abuse and human trafficking, but current scenario exposes its most inhuman side. On March 11, a single housing compound in its Industrial Complex reported 238 migrants to be infected by coronavirus. The count is increasing ever since then but the true figure is far from public view.
Many residing in that complex have accused the regime of ignorant and indifferent attitude with regard to their health. A worker tweeted that over 200 people work together and travel together in same bus, how were they supposed to follow social distancing.
The Foreign Policy's Sophie Cousins in the article 'Migrant Workers Can't Afford a Lockdown' mentioned how the workers are hiding their symptoms over the fear of being deported back to their country. Also the nation which has otherwise declared a lockdown, has kept its construction work going, without providing them with any protective gear, exposing thousands to the deadly contagion. One of the workers who spoke to Cousins via an encrypted communication channel said, "The situation here is serious. I have been frequently speaking with workers who are in lockdown areas. Employers aren't allowing people out to buy food, and companies are not providing food. We don't have any rights to ask for support."
In a follow-up to the increasing count of corona positive cases Reuters' raised a query to the authorities. The Government of Qatar responded by issuing a statement saying, "The majority of (coronavirus) cases in Qatar to date have been located in the Industrial Area."
"Every effort is being made to prevent the spread of the disease in Qatar and protect every member of the population. As a result, some areas of Qatar have been cordoned off to contain the virus," Government Communication Office (GCO) said, without elaborating. Reuters reached out to the regime to ask if there were any infections among World Cup workers, but in return the authorities issued a generic response, without revealing the exact count, stating that the government was working with employers to ensure the safety of the workers.
Source Link:
https://foreignpolicy.com/2020/04/08qatar-south-asian-migrant-workers-cant-afford-coronavirus-lockdown-world-cup-2022/