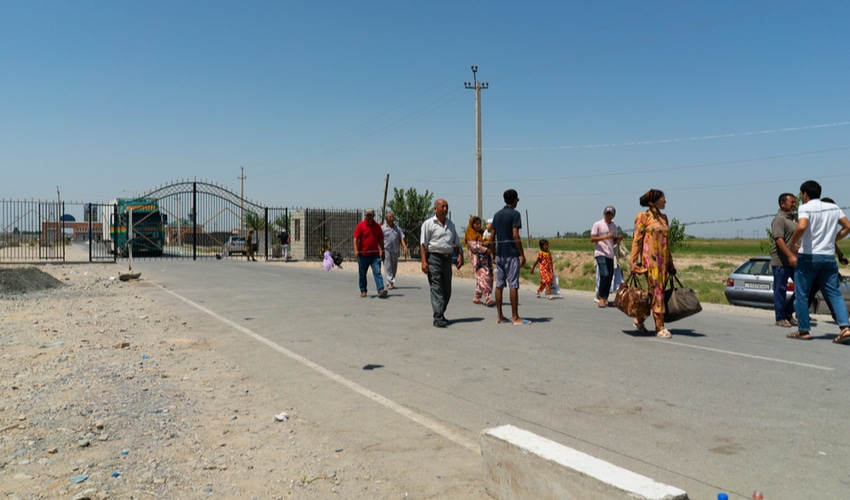 Corona mars freedom to go home: Migrants stranded at Uzbekistan border for over a week
Thousands of migrants have been waiting at Uzbekistan border for more than a week, in hope that the state would soon open its border and lift travel curbs allowing them to go back to their nation. Most of the stranded were Uzbek and Tajik migrants who travelled to southern region of Turkistan, in desperate hope of going home as most of them lost their jobs due to the coronavirus-led lockdown.
Most of them complained about both their native and host country's absolute disregard of their health and even life as they have been staying outdoors in scorching heat during the daytime and cold at night.
An Uzbek Embassy official, Bahtiyor Kamalov, told RFE/RL that the authorities were not opening the border because many individuals who had entered Uzbekistan from Kazakhstan remained in quarantine inside the country.
Happening Now. IOM, @UNmigration is organizing transport home 600 Tajik #migrants stranded at the Kazakhstan/Uzbekistan border due to restrictions imposed in the wake of #COVID__19. The group are mainly migrant workers, and include women, children and students. pic.twitter.com/nEfojApF0z

— IOM Vienna Regional Office (@IOM_ROVienna) June 19, 2020
Kamalov added that some 1,500 Uzbek citizens stranded at the border will be transferred to Uzbekistan "soon."
Kazakh border officials said they would open borders and send Uzbek and Tajik citizens across border when their Uzbek colleagues allow it.
On June 19, the International Organization for Migration (IOM) told RFE/RL it had organized transportation by bus to repatriate 635 Tajik citizens stranded at the Zhibek Zholy checkpoint.
Besides, Kazakhstan has a grim track record of labour rights violations. International Federation of Human Rights in its 2017 report regarding labour rights of migrants in and from Central Asia, exposed the violations of labour rights of Kyrgyz migrants in Kazakhstan, including practices of child labour, forced labour, and denying them the right to maternity protection and childhood. Kazakhstan's is a home to more than a million migrant workers, which make up around 7% of the population. The FIDH report also unveiled the conditions of arrest, detention, and deportation from Kazakhstan of Kyrgyz migrants. The team, which majorly focuses on the plight of Kyrgyz migrants also met Tajik and Uzbek migrants and emphasised on their vulnerability and lack of protection and rights both in native and host country.