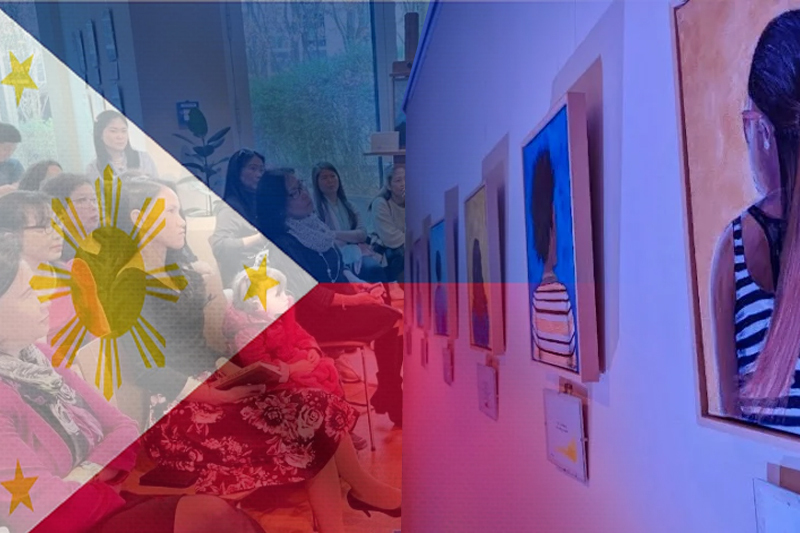 berlin exhibition highlights migrant women from the philippines in germany
Artist Krisanta Caguioa-Moennich emphasised the need for Filipino women in Germany to have more rights, access to resources in society, and opportunities for economic growth at the opening of her exhibition.
According to Philippine Ambassador-designate Irene, the exhibit provides a forum for Filipino women migrants to discuss their experiences and pose challenging questions. Susan Natriz
"Filipinas are not merely migrant brides. We could have more Filipinas working here in various sectors if the laws and policies of Germany and Europe only permitted it.
Mga kuwento at larawang migrante sa Alemanya, said Juana at the opening of her exhibit. Artist Krisanta Caguioa-Moennich emphasised the need for Filipino women in Germany to have more rights, more access to resources in society, and more opportunities for economic growth in her exhibition (For Juana: Stories and portraits of migrants in Germany).
The Philippine Embassy in Berlin hosted the exhibition's opening on March 18. It lasts through March 31.
Caguioa-Moennich works for the non-profit organisation Ban Ying e.V. Coordination and Counseling Center against Trafficking in Human Beings as a language and cultural mediator.
She claimed that her creations celebrate the migrant spirit of Filipino women.
They are combative. The world needs to be aware of their existence and the veracity of their stories, she declared.
The exhibit "celebrates the strength and resilience of migrant women and promotes the empowerment of women in general," according to Philippine Ambassador-designate Irene Susan Natividad.
The ambassador noted that there are many Filipinos working as nurses, in IT, and in the services sector in Germany.
Three Filipinas spoke about their struggles and accomplishments as immigrant women in a foreign country during the opening reception.
"We wanted to give them a platform so that their voices could be heard, to open up discussion about difficult issues so that other women facing similar challenges could learn from their experiences."
The majority of the 32,245 Filipinos living in Germany as of the end of 2021 were women, with 25,575 of them, according to the Federal Statistics Office of Germany.
Keep Reading

However, neither the German agency nor the embassy had data on the types of jobs that Filipino women migrants were taking, despite the fact that the demand for nurses and other medical professionals has always been high.
The pieces on display are the result of a two-part series: pen and ink on transparent paper created in collaboration with the Global Alliance Against Traffic in Women and acrylic paintings from Caguioa-project Moennich's for Ban Ying's 30th anniversary in 2019.
Her depiction of the women—showing only their backs but adorned with their own distinctive features and words reflected as captions—is a result of Caguioa-challenging Moennich's migration journey as a working single mother from the Philippines.
Despite the enforced lockdowns, Ban Ying continued to connect with vulnerable women using technology to facilitate their services during the pandemic. The group created online counselling videos and provided email and phone support for migrant women in Germany.
Solidarity among migrants is essential, Caguioa-Moennich emphasised.
Let's not entrust NGOs, embassies, and other government entities with the task of assisting and supporting women. If we support and encourage one another, we can accomplish more.
The ambassador claimed that by consciously applying a gender lens to their daily work, government officials can support and empower women.
Natividad advised that "we should always be very conscious in ensuring that our actions promote gender equality and women's empowerment."