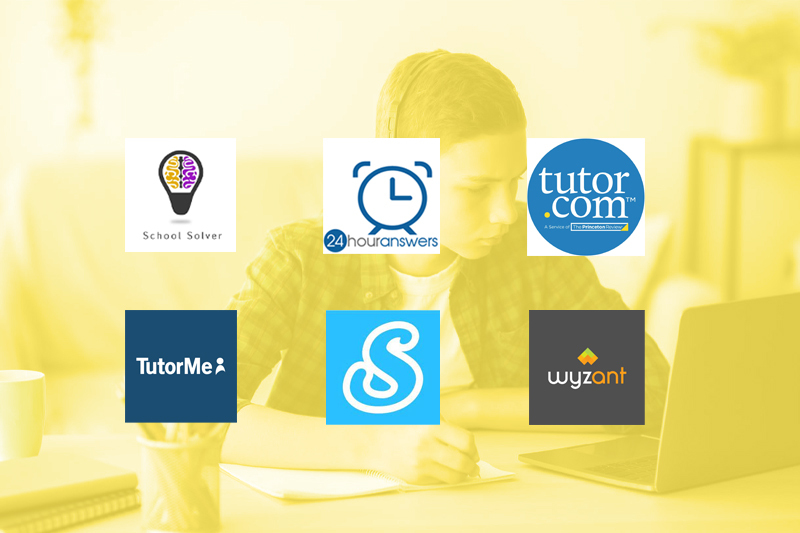 10 legit sites pay you to do homework for other people
Some students are suffering and are willing to pay for someone who is strong at a certain topic, such as English writing, mathematics, or even physics. Isn't it amazing that you can impart your wisdom and see them flourish academically and in their self-esteem as a result? You may get paid to assist with homework.
Opportunities for college students, recent graduates, and professionals are abundant as a result of the rising need for assignment help online. Getting paid to do homework is not only acceptable by most institutions, but may also be a terrific way to get some independence and freedom.
You get to pick the tasks you want to work on, the hours you put in, and the times of day and night when you're at your most productive.
Here are 10 Legit Sites Pay You To Do Homework For Other People:
1) School Solver
School Solver asserts to be THE marketplace for reasonably-priced school assignments covering all disciplines and aided by meticulously chosen subject matter experts. Students may also opt to become tutors on the site.
The organization prohibits its tutors from posting direct answers, ensuring that pupils are learning. They will answer questions on a variety of disciplines, including psychology, finance, mathematics, advanced accounting, computer science, engineering, business, physics, statistics, chemistry, geology, and history.
School Solver asserts that it is "the eBay of schoolwork or a premium version of Yahoo Answers."
Create your profile page after registering as a tutor on the website's registration page. Additionally, a PayPal account is required to receive payment and finish the registration.
After entering your personal information, you will take a test on any topic with which you are familiar or proficient. If your topic is not among the options, choose one that is relevant. You must earn at least 90 percent to pass the test.
2) 24houranswers
24houranswers focuses on offering assistance to college-level students in over 380 courses; it would be impossible to list them all here. This assignment platform provides you additional options to earn money because to its broader selection of services. One of the offerings is a homework library where students may purchase answers to prior problems at a discount. Additionally, the site provides online coaching sessions and step-by-step written solutions.
24houranswers is a legitimate business with great ratings from Google Reviews, the Better Business Bureau, and Trustpilot. It offers a trustworthy support staff available to assist both students and instructors.
Master's degree or above is required to become a 24houranswers tutor. If you do not have a Master's degree, you must have a Bachelor's degree with extraordinary marks. You must have a strong knowledge of the English language, both orally and in writing.
You must register by visiting the "Become A Tutor" page of 24houranswers in order to build your account and profile. Prepare a username that does not expose your true identity. You will be required to provide your academic transcript. If you make the final cut, an interview will be set.
Once you are employed as an instructor, you will be watched to ensure that you consistently provide work that is dependable, innovative, and of high quality.
3) Homework Market
Homework Market is a community of instructors who earn money by answering specific questions about a wide range of subjects, completing homework for others, and revising papers. It is also a home-based proofreading work for pay.
It is unclear what grade levels the community serves, however it is fair to assume that kids in high school and college can utilize the program.
If you wish to participate in the Homework Market, you must join up and build a profile that highlights your degrees, talents, and areas of expertise. As Homework Market has no minimal prerequisites for becoming an instructor, there is no screening process for people who wish to join its community.
Any form of homework may be posted on the Homework Market website. If you find an assignment that interests you, you complete it and publish it with the fee you anticipate to be paid. The student will then assess your work, and if they are satisfied, you will be paid the agreed-upon amount. Student access to the whole assignment is contingent upon payment for the assignment.
4) Tutor.com
Tutor.com employs independent contractors to assist kids in kindergarten through college with their homework. They have been in operation for over 20 years, making them a legitimate business.
If you replied affirmatively to each of the aforementioned questions, you must submit an online application via its website and pass a competency exam in one of the most in-demand disciplines. In addition, there will be an interview and a simulated session with an additional online teacher. The final step is a background check.
The screening procedure to become a tutor might take anywhere between one and three weeks.
After being employed, you may connect into the system and wait for kids requiring tutoring.
You will be notified when a student requests assistance with a homework assignment. If you are the first to react to a student's message, you will be taken to an online classroom where you may begin providing problem-solving assistance.
At the conclusion of each session, your student is able to evaluate your performance. The obtained ratings will be posted to your profile as an online tutor.
5) TutorMe
TutorMe is comparable to Tutor.com, except it provides a greater selection of courses, including Python and piano instruction. It offers tutoring services on demand and online programs. The website is intuitive and makes it simple to connect with your pupils.
This homework platform is distinguished from its competitors by allowing its teachers to become students at a discounted fee.
TutorMe is a legitimate firm with tutors from universities such as Berkeley, USC, MIT, Princeton, and Yale.
Teachers at TutorMe must be at least 18 years old, enrolled in or have graduated from an authorized college or institution, have previous tutoring or teaching experience, and topic competence.
Start the online tutoring application by filling out your educational history, employment experience, and topic areas of competence.
6) Studypool
Studypool is a micro-tutoring platform for speedy homework assistance and project completion.
Minimum qualification for a Studypool tutor is college or university enrollment. A higher education degree is desired.
After submitting an online application form, you will be required to compose an essay of 200 words. You will be interviewed on Studypool's policies if you pass the essay test. Both the essay test and the interview will assess your English language competence.
You must present a government-issued ID.
Once accepted as a Studypool instructor, you will be able to browse live questions and answer homework problems for compensation.
7) Help With Assignment
This is yet another site that wants highly skilled instructors for a variety of areas, including marketing, math, law, nursing, engineering, computer science, and others.
Help with Assignment provides online coaching as well as a click-and-buy answers database including previously answered problems.
Multiple nations are served by the platform, which caters to students in grades K-12, college, and graduate school. Help With Assignment is a legitimate business with over 97,000 completed assignments and 5,000 teachers on its site.
If you lack a Master's or Ph.D. in your chosen field, you must have at least two years of job experience, ideally in teaching. In addition, you must have superior communication abilities and English fluency.
Instructors will be handed exams, although the passing mark is uncertain.
Keep Reading
8) Wyzant
Wyzant is an online marketplace that provides in-person and online tutoring in more than 250 courses. With featured pieces on Fox News, Chicago Tribune, Forbes, CNBC, and CNN, Wyzant is legitimate.
A Wyzant tutor must be at least 18 years old and a Social Security number-carrying permanent U.S. resident.
You must register on their Tutor Sign Up website, fill out an online application, and select your areas of expertise. A member of the Wyzant team will assess your application and provide feedback within 48 hours. If you pass the first screening, you will be given a test of your subject-matter expertise in the area in which you wish to instruct.
Be prepared to give background check authorisation.
Lastly, you must review the guidelines governing the interaction between Wyzant and its tutors.
9) One Class
OneClass is a vast repository of student-created study aids, lecture notes, and video lessons. Additionally, graduates may submit their materials. Users can choose between a free account and a paid membership plan. Students may get limitless access to lecture notes and study aids, depending on the membership level they select.
Graduates and college students are welcome to join the community of notetakers in OneClass, pending screening.
Notetakers are required to submit an application and an example of class notes collected from a registered course. If the sample fulfills OneClass's requirements, you can begin weekly note uploads.
10) Paper Coach
Paper Coach specializes on custom paper writing for high school, undergraduate, Master's, and Ph.D. students, hence its name. They will assist anyone who requires assistance with writing assignments such as book reviews, thematic essays, etc.
Paper Coach is a legitimate organization with around 11,000 completed orders and nearly 1,200 skilled authors.
Paper Coach utilizes specialist LinkedIn groups, but you may submit a CV to bid on a project. To be considered for a writing post, however, you must have a Bachelor's, Master's, or Doctoral degree.
Non-citizens are encouraged to apply.
Paying someone to complete their homework is a valid service and source of revenue. Some reject it because of ethical issues that have been made against it.
However, seeking aid to accomplish assignments is a personal decision made by the student or parent, and nobody can deny the benefits of homework support.
Getting paid to assist someone with their homework is also a personal decision. It is also satisfying for the teacher to assist a student in solving a difficulty.
When you opt to work from home as an online tutor, make the experience beneficial for both you and the student.