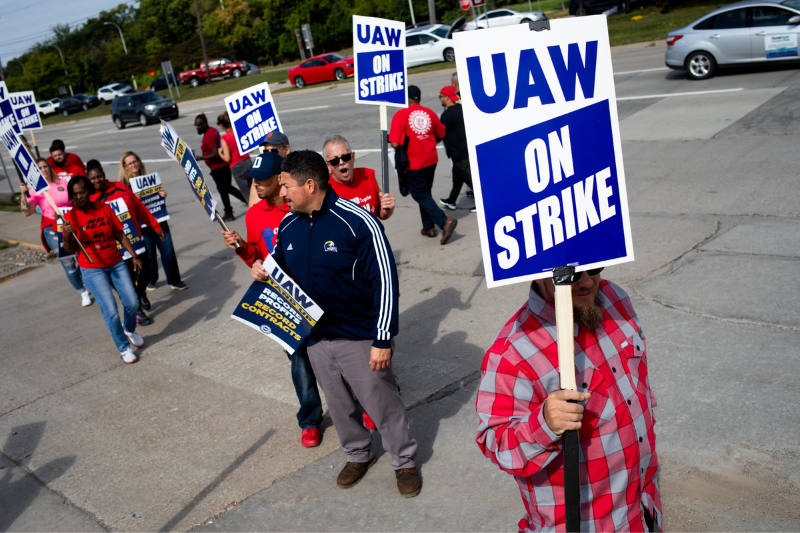 uaw members call for industry wide strike to offset ceos arrogance
Majority members of UAW are urging fellow workers to join them for an industry-wide strike amid widespread frustration at the Big Three GM, Ford and Stellantis. If fellow members join the current strikers, this would mean a protest of 150,000 workers. And this is a huge number.
A Toledo Jeep worker believes the CEOs are demonstrating their arrogance and greed for the whole world to see. He said the limited strike policy is allowing the companies to continue making money. Currently, around 13,000 UAW workers are participating in the "Stand Up Strike".
Negotiations between the Big Three and the United Auto Workers continued throughout the weekend, with reports highlighting that GM was at the negotiating table on Sunday, while Ford met with the union on Saturday, and Stellantis will be at the table Monday. Hakeem Jeffries, New York Democratic, expressed solidarity with the UAW. He said the highest ranking Democrat in the House makes it clear that they stand fully with the union.
Keep Reading
UAW Members Express Frustration
As the strike continued into day 3, many UAW members expressed concerns that the facilities are still working. They say the "Stand Up Strike" has empowered the management to fire anyone for any reason because there are no protections under an "expired contract". Members said rank and file workers are being targeted because management wants to fire the highest paid and have temporary workers take over at $16 an hour.
An aggrieved worker said this is the most opportune time in decades to voice their demands. "We need to inform the rank and file about what's going on, connect with them on the local, regional and international level, and stand up in an all out strike to show them how powerful we are."
UAW Called Out for 'Dumb Strike' Strategy
Meanwhile, the UAW is feeling the heat as many workers feel the union is not standing up to their expectations. One worker called out the United Auto Workers for its "dumb strike" strategy because it divides the members and weakens their collective power. Other workers agreed, saying they don't need the UAW to tell them when to go on strike and not to come back from strike. "We need to strike together and not stop until we get what we deserve."