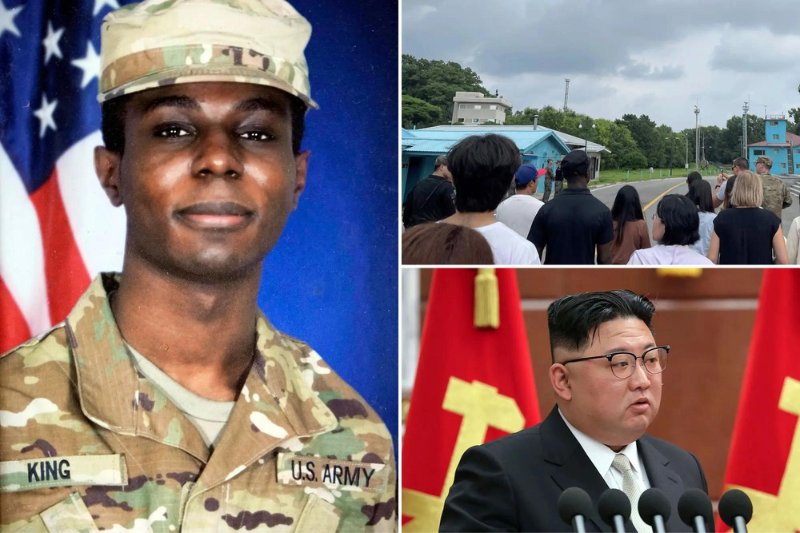 travis king north korea claims us soldier who crossed over wants to seek refuge from racial discrimination in the us military
North Korea has claimed Travis King who bolted across the demilitarized zone the heavily armed border that has separated the two Koreas since the end of their 1950-53 war wants to seek refuge from "inhuman maltreatment and racial discrimination within the US army."
In its first public acknowledgement that the American soldier entered the country while on a civilian tour of the DMZ on July 18, the nuclear-armed regime said the 23-year-old has expressed "disillusionment" with the US society.
During the investigation, "King voiced his willingness to seek refuge in North Korea or a third country," KCNA reported on Wednesday. He was being "kept under control" by soldiers from the North's Korean People's Army, the state-run news agency added.
King's alleged comments could not be independently verified. His mad dash across the border in July has made him the first American to get detained in North Korea since 2018, when the regime expelled Bruce Byron Lowrance.
Keep Reading
Could North Korea Use King's Crossing To Win Concessions From Washington?
The closely-monitored incident has provided the North an opportunity in several ways, including the potential for negotiations with the US over the soldier's release, said Soo Kim, an expert with Virginia-based consultancy LMI and a former CIA analyst.
The department's priority is to safely bring King home, a Pentagon spokesperson said. Analysts believe North Korea could try to take advantage of King's crossing to win concessions from Washington, such as tying his release to the US reducing its military activities with the South.
The soldier's mad dash into the regime arrived amid simmering tensions on the Korean Peninsula. While North Korea has already conducted dozens of weapons tests lately, the US has been expanding its military activities with the South in response.
The North has previously detained a number of Americans who were held on anti-state, espionage and other accusations. A small number of US soldiers who escaped into the North during the cold war later appeared in the regime's propaganda films.