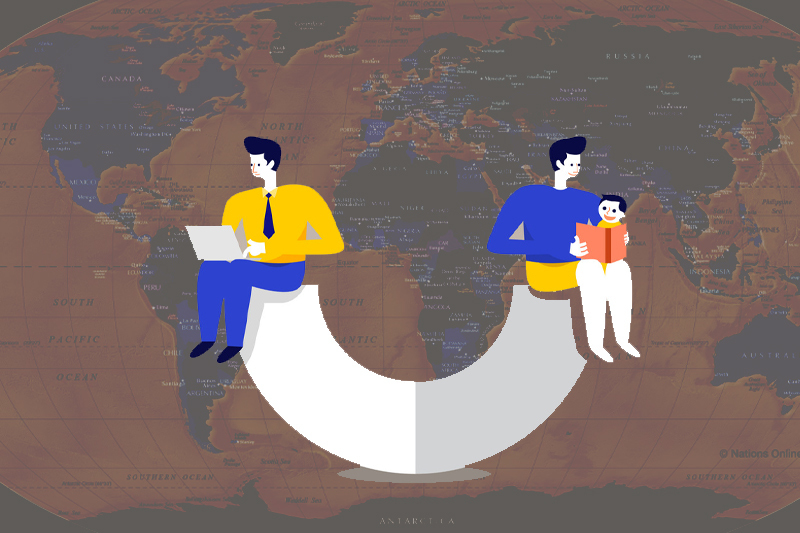 the 2023 world work life balance index
Last updated on August 26th, 2023 at 11:20 am
The key to personal happiness and professional success is a good work-life balance.
As a result of the Covid pandemic, companies had to adapt to remote and hybrid working, putting greater emphasis on employee wellbeing.
It was found in a recent Forbes Advisor study that over half (54%) of British workers would accept a lower-paying job for a better work-life balance – a trade of about £1,900 a year.
The Forbes Advisor analyzed 128 major cities across the globe and rated them out of 100 based on their workers' well-being.
Analyzed factors included:
Ranking of the World Happiness Index
Ranking of the Gender Inequality Index
Hours worked on average
Annual leave must be at least the legal minimum
Ratio of the property price to income
Vacancies for remote and hybrid working
Policy on maternity leave
Per capita, parks and nature reserves
Rate of unemployment
Hours of sunlight
The Best Cities for Work-Life Balance
Based on these factors, Forbes Advisor ranked the world's cities for best work-life balance as follows:
1. The Danish capital, Copenhagen
The score for Work-Life Balance: 70.5
Its infrastructure, public transport, and green spaces make Copenhagen one of the best cities for work-life balance.
Denmark's capital is known for its 'hygge' lifestyle, which focuses on taking time for oneself and others, relaxing, and enjoying life's quieter pleasures.
Keep Reading
These values are upheld by many Danish companies, which offer flexible working hours and a five-week minimum leave policy.
Moreover, unemployment rates are lower than in many other parts of Europe (2.4%), and companies offer a fair parental leave split of 52 weeks for both parents.
2. Helsinki, Finland
The score for Work-Life Balance: 65.3
Among the best cities to live and work in, Helsinki comes in second with many benefits that promote a healthy work-life balance. Finland's capital places a strong emphasis on community and a healthy lifestyle. These factors contribute to Finland's top ranking on the World Happiness Index.
As a country, Finland is known for its progressive social policies, which include fair parental leave after the birth of a child. Finnish workers typically enjoy up to five weeks of paid leave each year, so they can recharge and rest as much as they like.
Additionally, many companies in Helsinki offer flexible working arrangements, including remote work options, that allow employees to balance their work responsibilities with personal obligations. More than half of the job vacancies advertised involved remote or hybrid working.
3. Sweden, Stockholm
The Work-Life Balance Score is 64.8
The city is home to a thriving cultural scene, including world-class museums and music venues, making it a good place for a good work-life balance.
Sweden's full-time employees are entitled to a minimum of 25 days of annual leave, allowing them to enjoy leisure time and fulfill their personal goals.
It has been found that almost half (46%) of jobs advertise hybrid or remote work arrangements.
Parents receive 480 days of paid parental leave when a child is born, with each parent receiving 240 days.
4. Norway, Oslo
The score for Work-Life Balance: 63.2
In addition to Stockholm, another Scandinavian city has been named the fourth best place to live for a work-life balance. The Norwegian capital, however, is one of the most expensive cities in the world, but the high wages and excellent quality of life compensate.
In Oslo, many companies offer flexible work schedules, so employees can attend appointments, spend time with family and friends, and pursue hobbies and interests outside of work.
According to the World Happiness Index, Oslo ranks sixth overall.
5. New Zealand, Auckland
The score for Work-Life Balance: 62.7
The city ranks in the top 10 of the Work-Life Balance Index for the first time outside Europe. The city has a relaxed and friendly atmosphere, making it a comfortable and enjoyable place to live and work. It is home to a growing and diverse economy, providing ample employment opportunities across a variety of sectors.
After working 26.30 hours a week, residents can enjoy the city's rejuvenating environment and unwind after work. Full-time employees have four weeks of paid leave each year, as well as 11 public holidays. As well, unemployment is significantly lower at 3.2% than in other cities in the index.
6. Sweden, Gothenburg
The score for Work-Life Balance: 60.7
On the North Sea coast, Gothenburg offers residents access to beaches, islands, and natural beauty, making it a great place for a work-life balance.
Those living in Gothenburg can take full advantage of such beauty on offer, along with 25 days of annual leave. The city also offers flexible working arrangements, with 42 percent of job vacancies advertised offering remote or hybrid working. The combination of beautiful scenery and Sweden's focus on employee welfare makes Gothenburg an ideal place to work and live.
7. Reykjavik, Iceland
The score for Work-Life Balance: 58.7
There are plenty of recreational activities in Reykjavik's natural surroundings, such as hiking, swimming in geothermal pools, and whale watching.
Many Icelandic companies have adopted a flexible working model as a result, allowing employees to enjoy more leisure time thanks to the government's active promotion of a healthy work-life balance.
As well as 24 days of annual leave, employees also receive 12 public holidays. Flexible working is also promoted, with 46% of remote and hybrid jobs advertised. As a result of this relaxed approach to work, stress levels are reduced, contributing to better mental health and a better work-life balance.
8. Austria, Vienna
The score for Work-Life Balance: 58.5
It is ideal for people seeking a better work-life balance to live in Vienna because of its high quality of life and rich cultural scene. As a result, Austria scores highly on the world happiness index because it offers a wide range of social services, including free healthcare and education.
In addition to five weeks of annual leave, employees can take 13 public holidays depending on the number of hours they work. In addition, the city has a variety of green spaces that provide residents with a peaceful environment for outdoor activities. The unemployment rate is just 2.3%.
9. Edinburgh, Scotland
The score for Work-Life Balance: 57.1
Edinburgh is the first UK city to feature in the top 10 places to live for a work-life balance. The Scottish capital has a rich cultural heritage, with museums, art galleries, and theatres. In addition to rolling hills, beaches, and parks, the city also offers many opportunities for outdoor activities, including hiking and cycling.
As part of the generous annual leave policy (28 days), employees are also offered generous maternity leave, with full-time workers offered at least 39 weeks of pay.
10. Belfast, Northern Ireland.
The score for Work-Life Balance: is 57
In the work-life balance index, Belfast is the second entry from the UK.
With its bustling yet relaxed atmosphere, Belfast offers a range of career opportunities without compromising on the quality of life. In addition to Deloitte, CitiGroup, and Allstate, the city has a thriving economy and a rapidly growing tech sector.
A low cost of living and low property-to-income ratio make Belfast an affordable option for people looking to settle down in the UK. There are plenty of opportunities to enjoy all the city has to offer, as with other UK locations, during maternity leave.
Forbes Advisors took 128 cities to create this ranking of "Best Cities to Live In".
Also Read:- Starbucks Involved In "Egregious And Widespread" Violations Of Federal Law