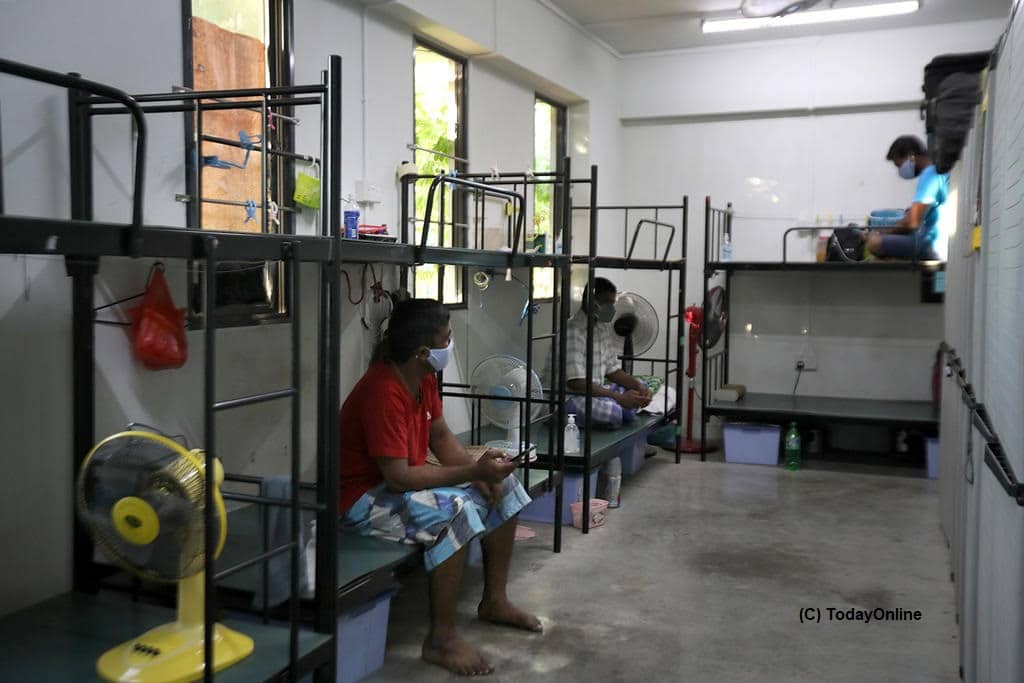 FWhile the city-state had relaxed lockdown rules for much of the population, low paid migrant workers have largely been confined to their cramped accommodations.
While the city-state had relaxed lockdown rules for much of the population, low paid migrant workers have largely been confined to their cramped accommodations.
Nearly 95% of the more than 57,000 coronavirus cases in Singapore have been among the blue-collar migrant population who are usually housed in foreign worker dormitories, whose cramped accommodations, poor ventilation and shared spaces make them a fertile ground for the infection to spread. On August 19, the Manpower Ministry declared that all dormitories had been cleared of the virus. But just four days later, lockdown notices were sent to nearly 5,000 workers after a cluster of 58 cases emerged. Soon 11 other dorm clusters were discovered.
The reemergence of cases so soon after the declaration, which came after weeks of intense testing and quarantining, has led to questions about whether the condition of these housing units is undermining the country's efforts to keep the virus at bay. The government has acknowledged this, however. As of June, more than 32,000 workers had been moved to temporary accommodations to ease the stress on the current ones. The government is also said to be working on 11 new dorms with more space and a smaller number of people sharing rooms and bathrooms.
"About 300,000 of 2.5 million Tamils working in diff countries have come back to TN in 5 months. In Kerala, 254,000 expats have returned, out of about 500,000 who had originally registered for repatriation" Indian migrant workers from Singapore now jobless https://t.co/Q39r4JO7kS

— Smita Prakash (@smitaprakash) September 7, 2020
At the start of the lockdown measures in April, there were 300,000 workers living in these shared accommodations, most of them low-paid workers from India, China and Indonesia. While the rest of the country had gradually opened up, these workers remained confined to their quarters, only being allowed to leave for essential errands like doctor's appointments. The government had spoken about relaxing some more restrictions but the discovery of these new clusters now makes this unlikely.
Dorm exits are monitored and before they are allowed outside for any pre-sanctioned work, the Ministry of Manpower must be informed. They mandatorily have to use the government's contact-tracing app and must be tested once every 14 days, which has to be seen to by the employers. Recently close to 13,000 workers were barred from resuming work because they have missed the deadline to get tested. Sometimes a brief visit to use amenities like mini-marts and outdoor seating areas might be allowed.
Those who are not forced to quarantine themselves in these dorms often have no jobs to go to. Construction projects are still on hold until employers figure out health and safety protocols and many of the workers employed in the sector are now either unable to go home or unwilling to do so because they are owned wages or the better healthcare facilities in Singapore. This prolonged confinement is throwing up some psychological problems among the workers. Social service groups say they have been swamped with calls about the deep frustration and anxiety among workers and its physiological effects. There have even been reports of suicide though the government has said these are related to other underlying issues.