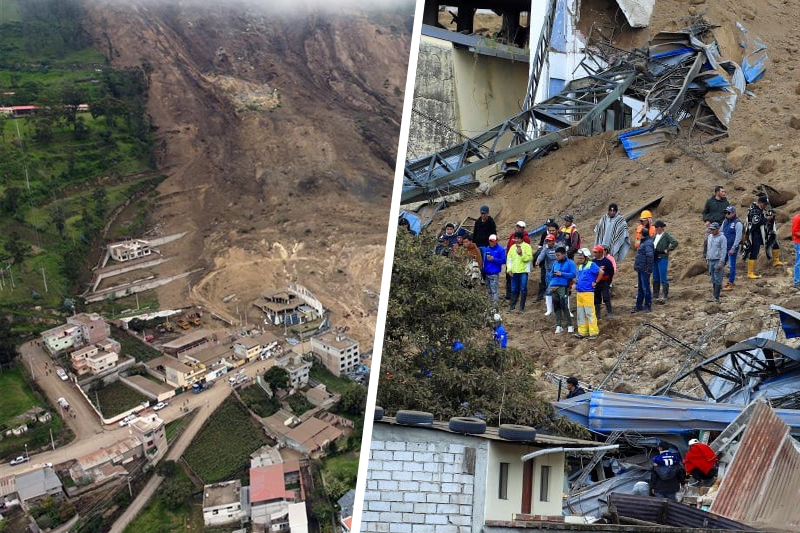 landslide in ecuador 7 dead, and over 60 missing
In the village of Alausi, located in the province of Chimborazo, about 300 kilometers (180 miles) south of Quito, the mudslide occurred overnight on Sunday into Monday, burying dozens of homes and injuring 23, according to officials.
Residents were shocked and many were in tears as they waited for news Monday as rescuers combed through the rubble looking for survivors trapped between twisted metal sheets and split tree trunks.
As he gazed at the muddy ground, 40-year-old laborer Manuel Upai said to AFP, "Five are buried here," referring to his relatives.
Avalanches also damaged roads and forced the closure of three schools in Alausi, a village of about 45,000 people surrounded by lush hills.
Jose Agualsaca, a survivor, told the local TV network Teleamazonas, "I managed to escape with about 15 minutes to spare," claiming he was hurriedly gathering his belongings out of his home before the mud arrived.
Keep Reading
Landslide in Ecuador and see what President said-
Guillermo Lasso, the president of Ecuador, announced on Twitter that firefighters from nearby regions had rushed to the village to aid those affected by the tragedy.
He exhorted everyone to leave the affected areas.
To aid in the rescue operations, the government called upon the national police, armed forces, health ministry, and Red Cross.
A government tweet read, "We have mobilized sleeping kits for those who have lost their homes and activated temporary housing."
– Floods and landslides
According to the SNGR risk management secretariat, since the year's beginning, heavy rains in Ecuador have killed 22, destroyed 72 homes, and damaged more than 6,900 homes.
Nearly 1,000 hazardous occurrences, including landslides and flooding, have been brought on by the downpours.
Following earlier landslides, the region that was devastated on Sunday had been placed in a yellow alert risk zone since February.
Just over a week had passed since the strong earthquake that killed 15 people in Ecuador's southwest border region with Peru.
Local authorities assigned the earthquake a magnitude of 6.5, and it resulted in 22 landslides that blocked roads in the provinces of El Oro and Azuay.
Following that, the government proclaimed a two-month state of emergency in 13 of the 24 provinces of the nation, allowing for the redistribution of economic resources to the affected regions.
Due to concerns that a significant oil pipeline may have been harmed by the collapse of a bridge, heavy rains in February forced the country to suspend oil pumping for five days in order to conduct safety checks.
The rainy season in Ecuador's Andean valleys can last from October to May.