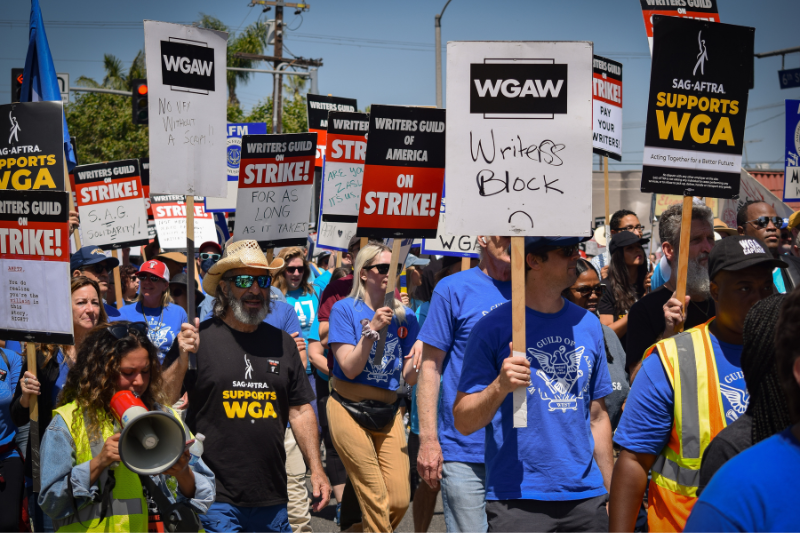 hollywood strike when will the raging dual work stoppage end
Disagreements over salaries and the use of artificial intelligence have got scores of writers and actors in Hollywood on a massive strike. But there is something everyone in the industry can agree on – industrial actions aren't good for businesses.
Do Streamers And Networks Look Ready To Settle?
The dual work stoppage has got several weeks old. But there is no evidence the Screen Actors Guild – American Federation of Television and Radio Artists (SAG-AFTRA) and the Writers Guild of America (WGA) are any further along in reaching a deal.
While media analysts have been meticulously monitoring the recent earnings call for evidence that the Alliance of Motion Picture and Television Producers (AMPTP) seems ready to settle, the indications so far are the networks and streamers don't expect the strike will end soon.
And the longer the action goes on, the worse it is not for the most recognisable names, who can manage a work stoppage even better than producers, but the craft services workers, makeup artists and others who work in support roles and are suddenly out of work.
Keep Reading
Where Does The Public Sympathy Lie?
The strike has had a major financial impact on the entire film industry. Telecast for the Emmy Awards is likely to be rescheduled to January next year, with vendors of the ceremony reportedly being alerted to an imminent date change.
Even the January 2024 date relies on a resolution before then. The Emmys, considered the highest honours in television, were originally planned for September 18. If the telecast actually gets rescheduled, it will be the first time since 2001.
When it comes to public sympathy during strikes, the emotion usually lies with the workers and the corporations – even in a case like this one, where a handful of those "workers" on strike draw seven-figure salaries and can manage a dual work stoppage better than most others.
Source: