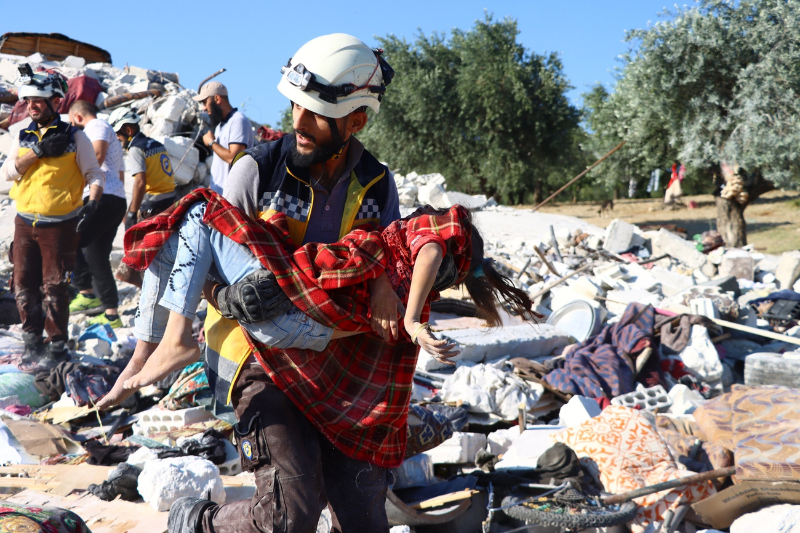 2,000 children among 7,000 syrians killed by russian forces since 2015
About 7,000 Syrian citizens, including around 2,000 children have been killed by Russian forces in Syria since September 2015, says the Syrian Network for Human Rights (SNHR). Fadel Abdul Ghany, the Executive Director of SNHR, also highlighted the violations by Russian forces in Syria, including figures on victims, vital facilities, massacres, Russia's use of cluster munitions and incendiary weapons. 
SNHR has worked on monitoring and documenting since the beginning of the Russian military intervention in Syria. It has documented killing, destruction, forced displacement and targeting vital facilities, which continue to date. The organization has also published reports on these crimes. Ghany delivered the latest data to the Ukrainian Prosecutor General. 
Keep Reading
The SNHR and Ukrainian Prosecutor General have agreed to further coordination and collaboration, and sharing of detailed data and information on specific attacks by Russian forces in Syria. SNHR database highlights that Russian forces perpetrated or have been involved in multiple violations that qualify as war crimes by bombing approximately 223 schools, 207 medical facilities, and 60 markets.
The two sides will look for a pattern in Russia's violations in both Syria and Ukraine in an effort to prove that some of the same Russian leadership figures have been involved in ordering and supervising unlawful attacks in both countries. But this collaboration will not lead to building a criminal case against Russia in Syria. 
It will actually emphasize accountability to be universal and holistic, and highlight that the Russian regime has been involved in violations of international law ever since it invaded Georgia in 2008, Crimea in 2014, Syria in 2015, and latest Ukraine in 2022. The works also target some Western countries' lenient attitude to Russia, betraying an implicit desire to induce the Kremlin to be involved in more countries and regions.