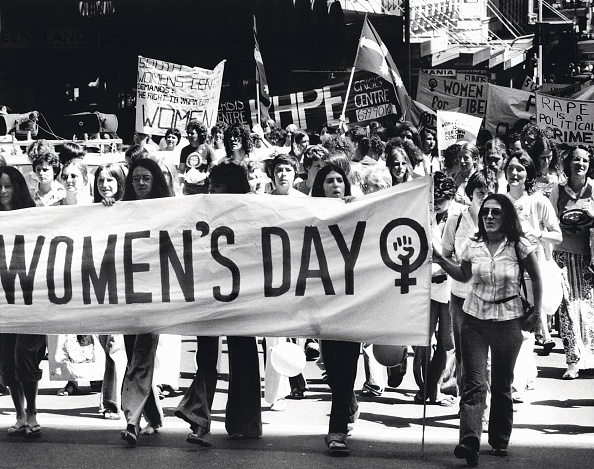 (AUSTRALIA & NEW ZEALAND OUT) International Women's Day, 12 March 1977. SMH Picture by DAVID BARTHO (Photo by Fairfax Media/Fairfax Media via Getty Images)
International Women's Day is an opportunity to honor the women who have been bringing solidarity through physical, spiritual, and virtual outlets. It is a day to reflect on the work that still remains, knowing that women have fought to be heard. It reminds us to look beyond our borders and to think about how we can make future progress daily. Women in the UAE have found ways to celebrate their hard work together every year and are joining activists around the world to be part of a message that is told to millions of young girls of different cultures and backgrounds.
The UAE has focused on empowering women since its founding day on the 2nd of December 1971. Her Highness Sheikha Fatima bin Mubarak, Chairwoman of the General Women's Union (GWU), President of the Supreme Council for Motherhood and Childhood, and Supreme Chairwoman of the Family Development Foundation (FDF), has shown her support for Emirati women through her wise leadership and humanitarian work. Sheikha Fatima, also known as the "Mother of the UAE", has drawn Arab, regional, and International attention thanks to her commitment to place Emirati women where they deserve to be.
The country has enabled its women to occupy leadership roles in the government and private sectors. Being part of its development plans has helped them attain a key and successful role through political empowerment programmes launched by His Highness Sheikh Khalifa bin Zayed Al Nahyan. It is with the help of programmes such as these that Emirati women have taken on senior and professional positions in the country as ministers, speakers, judges, doctors, engineers, and soldiers.
"Women are the sisters of men, and there is no difference between them, as they are partners in the nation's advancement and prosperity," the late Sheikh Zayed always said, as he strongly empowered women and gave them a place to support the country's economic development. The UAE has grown to raise and empower the community through women by strengthening their role.